No-Knead Kalamata Olive Bread
by
, September 20, 2017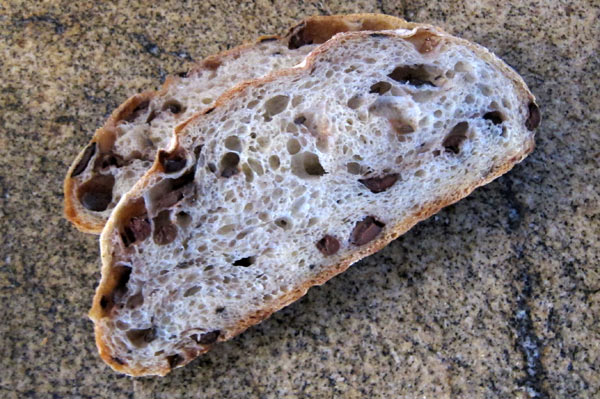 No knead bread is one of our favorite kitchen hacks. The bread takes just a few minutes to mix and then it rises and bakes with minimal hands-on prep time. This version is made with the addition of sliced ripe olives and a small amount of olive oil. If you use whole pitted kalamata or ripe olives, slice them or give them a rough chop to ensure there are no pits. Feel free to add an extra 1/2 cup of sliced olives. One or two minced fresh garlic cloves or about 1 teaspoon of garlic powder may be added as well.
Related:
No-Knead Dutch Oven Bread (fast method)
Prep Time: 15 minutes
Cook Time: 50 minutes
Total Time: 1 hour 5 minutes (plus rising time)
Ingredients:
Instructions:
Combine the flour, water, olive oil, salt, instant yeast, and olives in a large bowl. Stir with your hand or a spoon until all ingredients are moistened. You will have a soft, shaggy looking dough.
Cover the bowl with plastic wrap and let it stand at room temperature for 12 to 18 hours.
Flour a piece of parchment paper and your hands. Scrape the dough out of the bowl and onto the floured parchment paper as gently as possible. You don't want to deflate any of the air bubbles from the long rise.
With floured hands, gently fold the dough over on itself about 4 times to form a round loaf. Position it on the floured parchment paper, seam-side down. Sprinkle with flour and put a lightweight kitchen towel over the loaf. Let it rise for another 2 hours.
Position the oven rack in the center of the oven. Place a 4 to 6-quart heavy Dutch oven in the oven (do not include the lid). Preheat the oven to 500 F.
Carefully remove the hot Dutch oven from the oven and place it on a metal rack. Reduce the oven temperature to 425 F.
Grasp the ends of the parchment paper and put the dough, parchment paper and all, in the hot Dutch oven. Place the lid on the pot and put it back in the oven.
Bake for 30 minutes with the lid on.
Remove the lid and bake for about 20 minutes longer.
Remove the bread and place it on a rack to cool before slicing.
If you aren't able to weigh the ingredients isn't an option, try to measure the flour and water as accurately as possible. Stir the flour and then scoop it into the measuring cup with a spoon. Level the cup off without compacting the flour. A cup of flour using this method will weigh roughly 4 1/2 ounces.
The pictured bread was baked in an enamel-lined cast iron Dutch oven. Any large oven-safe pot or casserole (with a lid) may be used.


Makes 12 servings.
Site Search