Jane's Cajun Cake
by
, July 22, 2017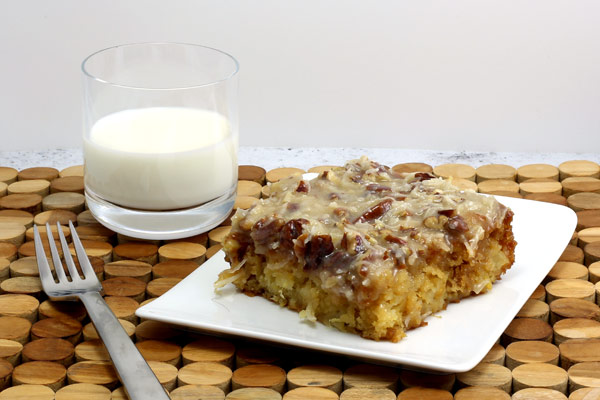 The cake is moist and delicious, but the amazing coconut pecan topping is what keeps people coming back for more.
Prep Time: 12 minutes
Cook Time: 30 minutes
Total Time: 42 minutes
Ingredients:
Cake
Topping
Instructions:
Preheat the oven to 350 F.
Grease and flour a 9-by-13-by-2-inch baking pan.
Combine the flour, 1 1/2 cups of sugar, baking soda, and salt.
In a mixing bowl with an electric mixer, beat the eggs with the undrained pineapple; stir in dry ingredients, blending well.
Pour the batter into the baking pan. Bake the Cajun cake for 30 minutes, or until a wooden pick or cake tester inserted in center comes out clean.
Topping
About 20 minutes before the cake is done, combine the evaporated milk, 1 cup of sugar, and the butter in a saucepan. Place the saucepan over medium heat and bring to a boil. Reduce the heat to medium-low maintain a boil and cook for 12 minutes, stirring frequently. Beat until thickened and then stir in the vanilla, coconut, and pecans.
Spread the coconut topping over the hot cake.
Makes 12 Servings
Site Search