Mini Peanut Butter and Chocolate Cheesecakes
by
, June 26, 2017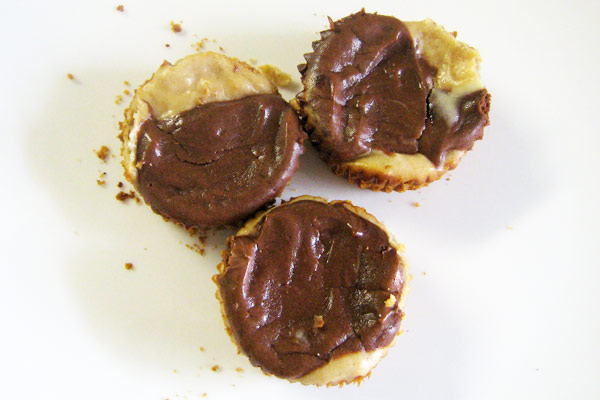 These little cheesecakes are baked in mini cheesecake pan or muffin cups. The peanut butter and chocolate swirl cheesecake filling sits on a brown sugar graham cracker crust.
Prep Time: 18 minutes
Cook Time: 22 minutes
Total Time: 40 minutes
Ingredients:
Instructions:
Preheat oven to 375 F.
Lightly spray a mini cheesecake pan with baking spray or line a standard 12-cup muffin pan with foil liners or double paper liners.
In a bowl, combine the graham cracker crumbs with brown sugar and melted butter. Pat into the bottom of lined muffin cups or mini cheesecake pans, using about 1 1/2 tablespoons in each cup. A small glass bottom, a pestle, or a similar tool will make tamping easier.
Bake the crusts for 5 minutes; set aside.
In a mixing bowl with an electric mixer, beat the cream cheese until fluffy; beat in the granulated sugar and then the eggs and milk. Beat in vanilla just until blended.
Melt the semisweet chocolate in a bowl or double boiler insert over simmering water.
Put about half of the cream cheese batter in a separate bowl; stir in peanut butter until blended. To the other half of the cream cheese, add the melted chocolate.
Spoon about 1 heaping tablespoon of the peanut butter batter into each muffin or mini cheesecake cup. Spoon about 1 1/2 to 2 teaspoons of the chocolate batter over the peanut butter batter. Gently swirl the chocolate batter into the peanut butter batter with a toothpick or small spatula.
Bake for 20 to 24 minutes, or until set.
Cool the cheesecakes in pan on a rack and then chill thoroughly before removing from cheesecake pan.
Makes 24 Servings
Site Search