Mexican Scrambled Eggs
by
, August 24, 2017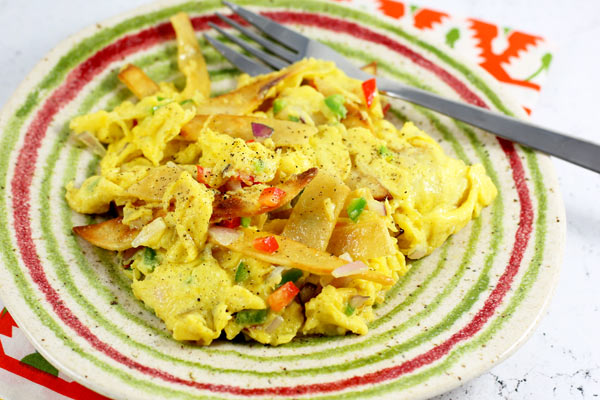 This is one of the best plates of scrambled eggs I've ever tasted. The corn tortillas add unexpected flavor and texture, and the mixture of vegetables is perfect. I added some red bell pepper instead of tomatoes, but other than that I followed the recipe (pictured). If you are serving the eggs along with fried potatoes or hash browns and sliced fruit, the dish should be enough for 4 people.
Related:
Scrambled Egg Croissant
Prep Time: 10 minutes
Cook Time: 8 minutes
Total Time: 18 minutes
Ingredients:
Instructions:
Heat 3 tablespoons of vegetable oil in a skillet over medium heat and saute the tortilla strips until they are lightly browned. Transfer the tortilla strips to paper towels to drain and wipe out the pan.
Place the skillet over medium-low heat and melt the butter. Add the chopped tomato, onion, and green chile and cook for about 1 minute, stirring constantly. Return the tortilla strips to the skillet.
Pour beaten eggs into the skillet over the tortilla strips and vegetables and cook until the eggs set, stirring frequently. Sprinkle with salt and pepper, to taste.
Makes 2 to 3 generous servings.
Site Search