Tex-Mex Meatballs in Spicy Cheese Sauce
by
, July 10, 2017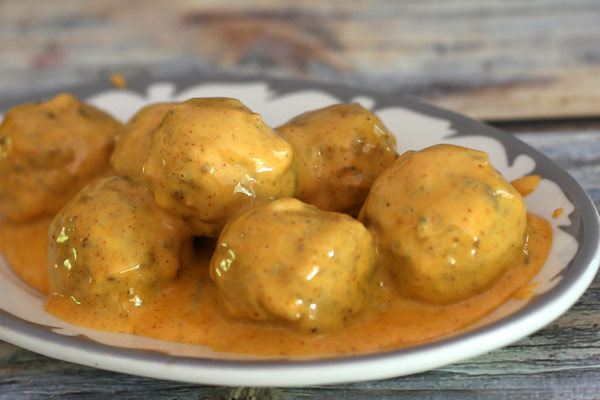 Serve these delicious, cheesy meatballs hot from the slow cooker along with tortilla chips.
Prep Time: 20 minutes
Cook Time: 50 minutes
Total Time: 1 hour 10 minutes
Ingredients:
Instructions:
Heat the oven to 350 F.
Line a large roasting pan or sheet pan (rimmed) with foil. Place a large cooling rack in the pan.
In a medium bowl, combine the ground beef with the bread crumbs, cumin, onion, milk, parsley, pepper, and egg. Shape into 3/4-inch meatballs using hands or a cookie scoop. Place them on the rack in the prepared pan.
Bake for 20 to 30 minutes, or until the meatballs are browned and thoroughly cooked. The minimum safe temperature for ground beef is 160 F. (Ground poultry should be cooked to a minimum temperature of 165 F.)
Meanwhile, in a large saucepan or saute pan over low heat, combine cheese, chopped green chile peppers with their liquid, taco seasoning mix and 1/2 cup water; stir over low heat until cheese melts, adding a little more water if too thick.
Add the meatballs to the cheese sauce and simmer until meatballs are hot.
Transfer to the slow cooker or chafing dish for serving.
Makes about 48 to 54 meatballs.
Makes 16 to 24 Appetizer Servings
Site Search