Marmalade Pork Chops
by
, July 22, 2017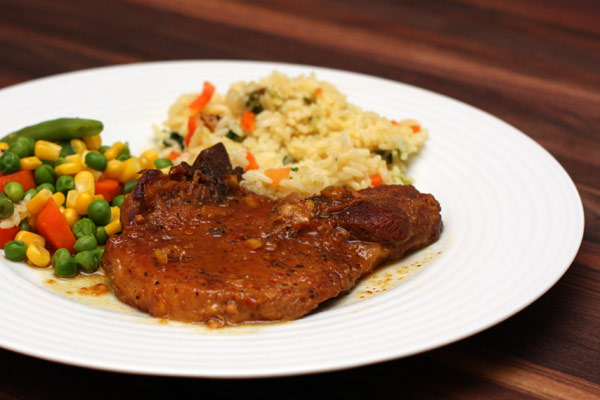 A tangy marmalade sauce flavors these easy pork chops.
Prep Time: 15 minutes
Cook Time: 30 minutes
Total Time: 45 minutes
Ingredients:
Cake
Instructions:
In a saucepan, combine the orange juice, marmalade, vinegar, and mustard. Place the pan over medium heat and bring to a boil. Reduce the heat to low and simmer for about 15 minutes, or until reduced and thickened.
Heat oven to 400 F.
Sprinkle the seasoning blend over the pork or season with salt and pepper.
Heat the oil in a large oven-safe skillet over medium-high heat. Add the pork chops and cook for about 4 minutes on each side.
Add the onions to the skillet, if using, and pour the orange marmalade mixture over the chops.
Transfer the skillet to the oven and bake for 15 minutes, or until the pork reaches 145 F.
Remove the pork to a platter and keep warm.
Place the skillet over medium-high heat and cook for about 3 minutes, or until the liquids are concentrated.
Makes 4 Servings
Site Search