Maple Cinnamon French Toast
by
, September 22, 2017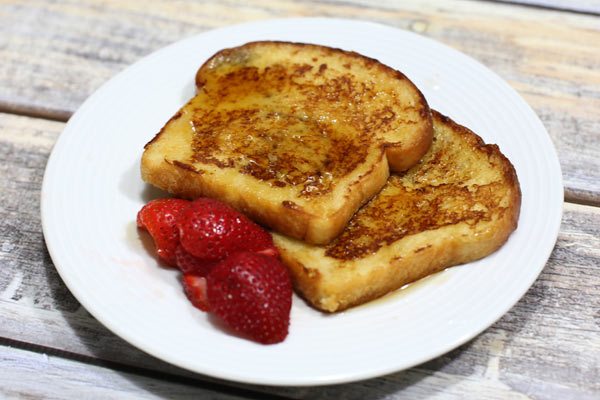 This basic French toast is flavored with maple syrup, vanilla, and cinnamon. It's a flavorful French toast for 4 to 6 people.
Related:
French Toast 101: Tips for Perfect French Toast
French Toast and Caramelized Sliced Peaches
Prep Time: 12 minutes
Cook Time: 24 minutes
Total Time: 36 minutes
Ingredients:
Instructions:
Heat the oven to 200 F. This is to keep the finished French toast warm while you make subsequent batches. If you're using a large griddle, you might not have to use the oven.
In a large bowl, whisk the eggs with the milk, 2 tablespoons of maple syrup, vanilla, salt, and cinnamon until well blended.
Pour the egg and milk mixture into a pie plate or shallow bowl.
Melt 1 tablespoon of butter in a non-stick skillet over medium-low heat.
Put two slices of bread in the egg and milk mixture, turning to coat both sides.
When the butter is hot, and the foaming subsides, add the bread slices to the skillet.
Cook for 2 to 3 minutes, or until the French toast is golden brown on the bottom. Turn and brown the other side. Adjust the heat as necessary.
Transfer the cooked French toast slices to a pan or rack and put them in the oven to keep warm.
Repeat with the remaining butter, bread, and egg mixture.
Serve the French toast with butter and more maple syrup.
Makes 12 servings.
Site Search