Light Meatloaf With Shredded Zucchini
by
, October 14, 2017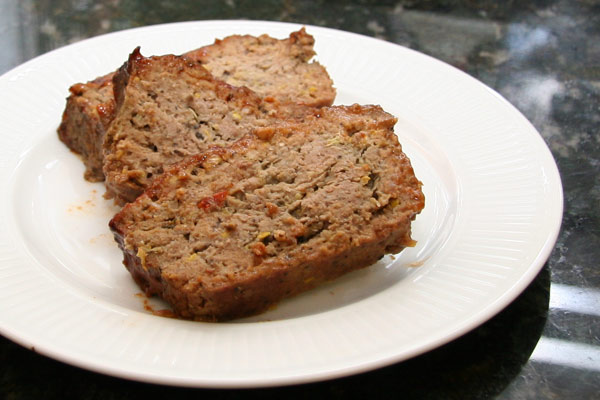 Shredded zucchini and mushrooms flavor this tasty ground beef meatloaf. The zucchini makes for a lighter loaf and barbecue sauce is added as a topping.
Related:
Italian Style Meatloaf
Parmesan Meatloaf With Pizza Toppings
Parmesan Meatloaf
Prep Time: 15 minutes
Cook Time: 1 hour 12 minutes
Total Time: 1 hour 27 minutes
Ingredients:
Instructions:
Preheat the oven to 350 F.
Combine the ground beef with shredded zucchini, onion, mushrooms, garlic powder, egg, breadcrumbs, salt, and pepper.
Mix lightly with hands until thoroughly blended.
Pack the meat mixture into a lightly greased 9-by-5-by-3-inch loaf pan.
Bake for 1 hour.
About 15 minutes before the meatloaf is done, carefully pour off excess fat. I place a plate or lid over the pan and drain it into a jar or cup to be discarded in the trash later.
Top with ketchup and return to the oven and continue baking for 10 to 15 minutes.
Variations:
Replace the zucchini with yellow summer squash.
Use barbecue sauce for the topping instead of ketchup.
Makes about 6 servings.
Site Search