Light Garlic Mashed Potatoes
by
, August 31, 2017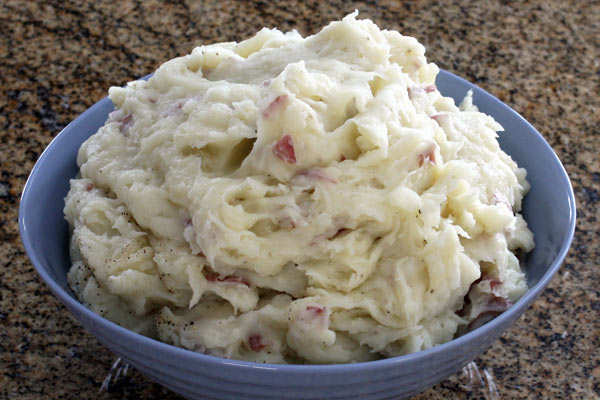 You'll be surprised at the creamy texture and flavor in these mashed potatoes. They're made without cream, butter, or milk. The potatoes are flavored with garlic and olive oil brings them together. Add stock or milk to thin them if you like. Use unpeeled or peeled red or Yukon gold potatoes.
Related:
Special Mashed Potatoes With Boursin and Herbs
Prep Time: 10 minutes
Cook Time: 20 minutes
Total Time: 30 minutes
Ingredients:
Instructions:
Scrub the potatoes, cut away any blemishes or eyes, and cut into 2-inch chunks. Put the potatoes in a large saucepan and cover with water. Peel the garlic pieces and cut each in half. Add to the potatoes. Place the pan over high heat and bring the potatoes and garlic to a boil. Cover and reduce the heat to medium-low. Boil for about 15 to 20 minutes, or until the potatoes are fork tender. Drain the potatoes.
Transfer the hot drained potatoes to a large bowl.
Mash the potatoes and garlic with the olive oil. Add salt and pepper, as desired.
If desired, thin with a little milk, chicken broth, or vegetable broth. Serve hot.
Makes 6 Servings.
Site Search