Lentil, Tomato, and Roasted Eggplant Soup
by
, June 20, 2017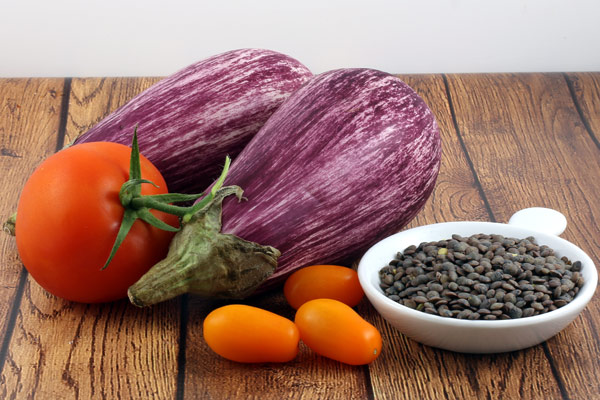 Diced roasted eggplant and tomatoes are added to this flavorful, creamy lentil soup. The soup is flavored with some lemon juice, curry powder, and garlic.
Prep Time: 15 minutes
Cook Time: 75 minutes
Total Time: 90 minutes
Ingredients:
Instructions:
Preheat the oven to 350 F.
Line a large baking sheet with foil; lightly grease or spray with nonstick cooking spray. Arrange the chopped tomatoes and eggplant on the baking sheet. Bake for 25 to 30 minutes. Remove from oven and set aside.
Meanwhile, heat 1 tablespoon of olive oil in a large saucepan over medium heat. Cook the onions and garlic for 1 minute; add vegetable or chicken broth, lentils, and potato chunks. Bring to a boil. Cover and simmer for 45 minutes, or until the lentils and potatoes are tender, stirring occasionally.
Carefully puree the lentil mixture in a blender in small batches; return to the large saucepan.
Add the roasted diced vegetables along with the cream, lemon juice, curry powder, and pepper. Taste and add salt, if needed.
Thin with more broth or cream, as desired.
Heat through.
Makes 6 Servings
Site Search