Veal Piccata
by
, August 14, 2017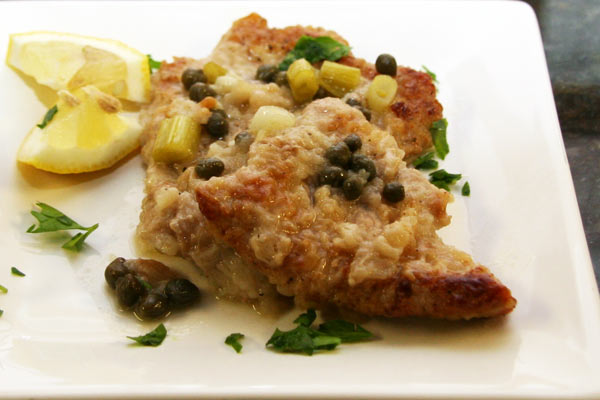 This veal piccata is a tasty combination of veal with a lemon, garlic, and caper sauce. The lemony sauce flavors the veal perfectly, and it is an excellent dish to serve with angel hair pasta or hot cooked rice.
Related:
Creamy Veal Marsala
Prep Time: 15 minutes
Cook Time: 10 minutes
Total Time: 25 minutes
Ingredients:
Instructions:
Sprinkle veal scallops with salt and pepper; dredge in flour.
In a large skillet over medium heat, melt 2 tablespoons of the butter with the olive oil. Add veal in a single layer and cook for about 1 to 1 1/2 minutes on each side. Remove to a warm platter and keep warm. Repeat with remaining veal.
Slice the green onions, separating the green and white parts.
To the hot skillet, add the white parts of the green onions and garlic. Cook for 2 minutes. Add capers, lemon juice, wine or chicken broth, the remaining 1 tablespoon butter, and parsley. Simmer to reduce by about half.
Add the veal back to the skillet, along with the green onion tops and lemon slices, if using, and heat through.
Serve with hot cooked pasta or rice.
Makes 4 Servings
Site Search