Lemon and Herb Roasted Chicken
by
, August 9, 2017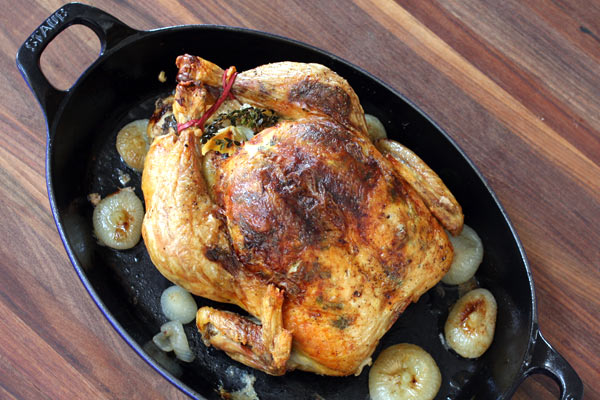 Garlic and herb butter is tucked under the skin to flavor this roasted whole chicken. Use fresh or dried herbs in the butter mixture. Cippolini onions are peeled and roasted along with the chicken, but feel free to use small pearl onions or quartered large onions. Add some potatoes or carrots to the pan if you like.
Related:
Roasted Whole Chicken With Maple Rosemary Glaze
Top 24 Easy Chicken Recipes
Prep Time: 15 minutes
Cook Time: 1 hour 20 minutes
Total Time: 1 hours 35 minutes
Ingredients:
Instructions:
Heat the oven to 375 F.
Remove the giblets and discard them or save them for another use.
Pat the chicken dry and place it in a roasting pan or baking dish.
In a small bowl or cup, combine the butter, lemon zest, thyme, sage, garlic, salt, and pepper. Gently separate the skin from the breast and tuck the butter mixture under the skin on both sides.
Brush the skin lightly with olive oil.
Cut the large onion and lemon into chunks and put them in the cavity. If you have fresh herbs, place a few thyme sprigs and sage leaves in the cavity.
Tie the ends of the drumsticks together.
Toss the onions with a few tablespoons of olive oil and add to the pan around the chicken.
Roast for about 20 minutes per pound, or until the chicken registers at least 165 F on an instant-read thermometer inserted into the thickest part of a thigh. Juices should run clear.
Remove the chicken from the oven and tent with foil; let rest for about 10 minutes before serving.
Makes 4 Servings
Site Search