Lemon Buttermilk Pie With Easy Food Processor Pastry
by
, August 30, 2017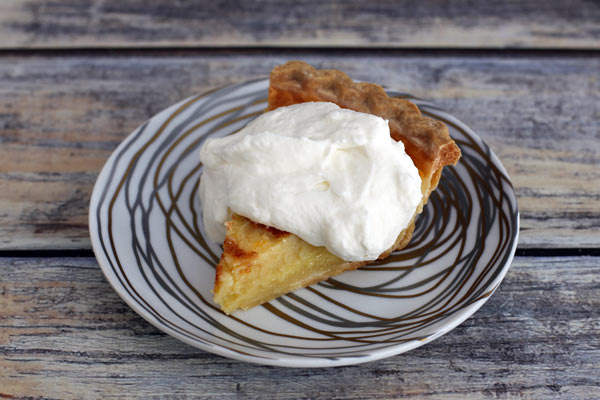 This delicious buttermilk pie is similar to a chess pie. The pie is filled with a custard mixture flavored with lemon zest, juice, and a bit of vanilla extract. The food processor pastry is easy to fix, but a ready-made frozen crust or a sheet of refrigerated pie dough may be used instead.
Related:
Pineapple Chess Pie
Prep Time: 5 minutes
Cook Time: 15 minutes
Total Time: 20 minutes
Ingredients:
Pie Crust
Lemon Buttermilk Filling
Instructions:
Combine 1 1/2 cups of flour and the salt in a food processor. Pulse to blend. Add the pieces of butter and then pulse until the butter is the size of lentils or small peas.
Add 2 tablespoons of ice water and pulse a few times. Add more ice water, about 1 teaspoon at a time, while pulsing, until the dough begins to clump together.
Turn the dough out onto a floured surface and knead just until the dough holds together. Shape it into a disk, wrap with plastic wrap, and refrigerate for 20 to 30 minutes.
Roll the chilled dough out and fit it into a pie plate. Crimp the edge as desired.
Preheat the oven to 375 F.
In a mixing bowl with an electric mixer, beat the eggs and sugar until light and lemon colored. Beat in the 2 tablespoons of flour, then add the buttermilk, melted butter, lemon zest, lemon juice, and vanilla. Blend thoroughly.
Pour the filling mixture into the unbaked pie shell.
Bake in the preheated oven for 20 minutes and then reduce the oven temperature to 325 F. Continue baking for about 25 to 35 minutes longer, or until a knife comes out clean when inserted in the center. The center of the filling will be slightly wobbly.
Makes 8 Servings.
Site Search