Layered Cake Mix Chocolate Peanut Butter Bars
by
, September 28, 2017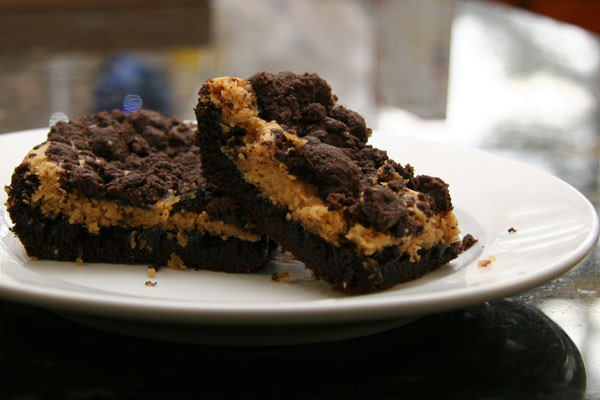 A peanut butter and cream cheese layer takes a chocolate cake mix to a new level. Your friends and family will love these easy chocolate cake mix bars.
Related:
Cake Mix Butter Pecan Bars With Chocolate Filling
Semi-Homemade Brownies With Penuche Frosting
Prep Time: 10 minutes
Cook Time: 40 minutes
Total Time: 50 minutes
Ingredients:
Instructions:
Heat oven to 350 F.
Grease and flour a 9-by-13-by-2-inch baking pan.
In a mixing bowl, beat the cake mix with 1 egg and the vegetable oil until well blended. The mixture will be crumbly. Reserve 1 cup of the crumb mixture and pat the remaining crumbs firmly into the bottom of the prepared baking pan. Bake for 15 minutes. Remove from oven.
In a medium bowl, beat the cream cheese with the peanut butter until smooth.
To the cream cheese mixture, add the remaining egg, the vanilla extract, and sugar; beat just until blended. Spread the peanut butter mixture over the hot crust.
Sprinkle the remaining chocolate crumb mixture evenly over the peanut butter and cream cheese layer.
Bake for 25 to 30 minutes, until set.
Cool completely and cut into squares to serve.
Makes 36 servings.
Site Search