Traditional Irish Soda Bread
by
, July 24, 2017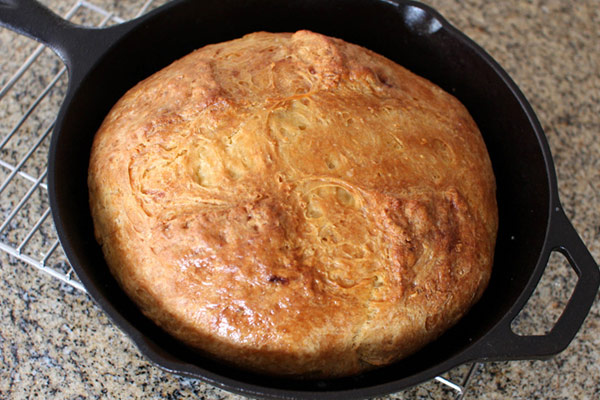 Irish soda bread is a classic bread to serve with a St. Patrick's Day feast of lamb stew or corned beef and cabbage. It's a great breakfast bread, too. Fill it with currants, dried blueberries, raisins, or dried cranberries.
Prep Time: 10 minutes
Cook Time: 40 minutes
Total Time: 50 minutes
Ingredients:
Instructions:
Heat oven to 375 F.
Grease and flour a 9-by-5-by-3-inch loaf pan. It may also be baked in a well-seasoned cast iron skillet.
In a food processor or using a spoon and pastry blender, combine the flour, 1/3 cup sugar, baking powder, soda, and cold butter until the mixture resembles coarse meal.
In a mixing bowl, whisk sour cream and egg together; stir in the dry mixture and blend just until moistened.
Carefully fold in the currants or raisins.
Transfer the dough to the prepared pan.
Bake for 35 to 45 minutes, or until a toothpick inserted in center comes out clean. Cool the bread in the pan for 10 minutes; turn out onto a rack.
If desired, brush with melted butter and sprinkle with sugar or cinnamon-sugar blend. Serve warm or at room temperature.
*To soften the currants, raisins, or dried blueberries, simmer them in about 1 1/2 cups of water for 5 minutes. Drain thoroughly and add to the dough.

Makes About 10 Servings
Site Search