Honey and Peanut Glazed Chicken Thighs
by
, September 23, 2017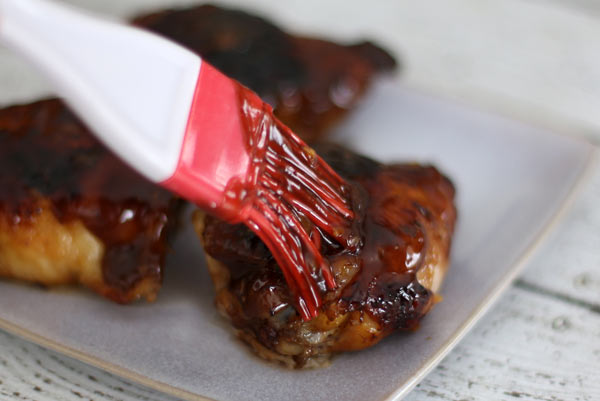 Make this delicious baked chicken recipe with chicken thighs or whole legs. The chicken pieces are marinated and then glazed with a flavorful honey and peanut butter sauce. Serve the chicken with an Asian style noodle dish or this fried cauliflower rice.
Related:
Spicy Fried Chicken Drumsticks
Sweet and Spicy Chicken Thighs
Prep Time: 15 minutes
Cook Time: 40 minutes
Total Time: 55 minutes
Ingredients:
Instructions:
Place the chicken thighs in a plastic food storage bag or nonreactive container.
In a bowl, combine the honey, balsamic vinegar, brown sugar, ginger, garlic, lemon juice, and soy sauce. Blend well and add to the chicken thighs. Seal the bag or container and refrigerate for 2 hours. Turn the chicken from time to time to keep the chicken coated with the marinade.
Heat the oven to 350 F.
Line a 9-by-13-by-2-inch baking pan with foil.
Remove the chicken from the bag or container and shake off excess. Place the chicken pieces, skin side down, in the foil-lined baking pan.
Pour the remaining marinade into a small saucepan and set aside.
Bake the chicken pieces for about 35 to 40 minutes, or until they register 165 F in the thickest pieces (not touching bone). Turn the chicken pieces skin side up and return to the oven. Set the oven to broil and broil for about 4 to 6 minutes, just until the skin is browned and crisp.
Meanwhile, bring the reserved marinade to a full rolling boil. Boil for 1 minute. Stir in the cornstarch and water mixture and cook until thickened. Add the peanut butter and whisk until smooth. Remove the chicken thighs from the oven and brush them with the hot thickened sauce before serving.
Makes 6 servings.
Site Search