Honey Mustard Pork Tenderloin
by
, May 9, 2017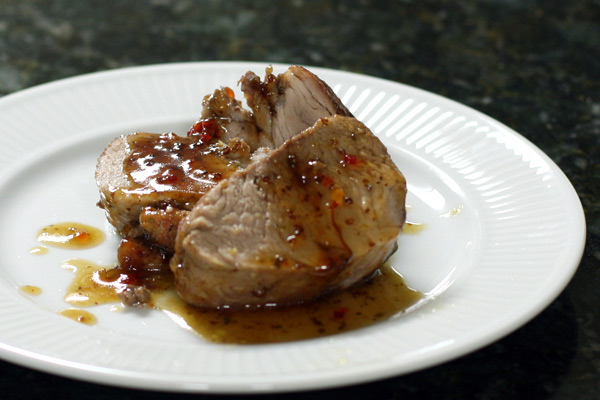 This roasted pork tenderloin is flavored with a mixture of honey and Dijon mustard.
Prep Time: 10 minutes
Cook Time: 35 minutes
Total Time: 45 minutes
Ingredients:
Instructions:
In a bowl, combine the Dijon mustard, honey, pepper jelly or preserves, and soy sauce; blend well.
Heat the vegetable oil in a large skillet over medium heat. Trim the tenderloins and remove silver skin; sprinkle with Creole seasoning.
Brown the tenderloins on all sides in the hot oil.
Meanwhile, heat oven to 375 F.
Transfer the pork to a lightly oiled baking pan or leave it in the skillet if the skillet is oven-safe.
Roast the pork for about 12 minutes and then brush with some of the mustard and honey mixture. Continue roasting for about 10 minutes longer, basting frequently with the honey mustard mixture. The minimum safe temperature for pork (USDA Guidelines) is 145 F. check the pork with an instant-read thermometer inserted into the thickest part of a tenderloin.
Let rest for about 5 minutes before slicing.
While the pork is resting, heat any remaining glaze; drizzle over the sliced pork.
Makes 6 Servings
Site Search