Honey Garlic Chicken Thighs
Updated July 1, 2017 by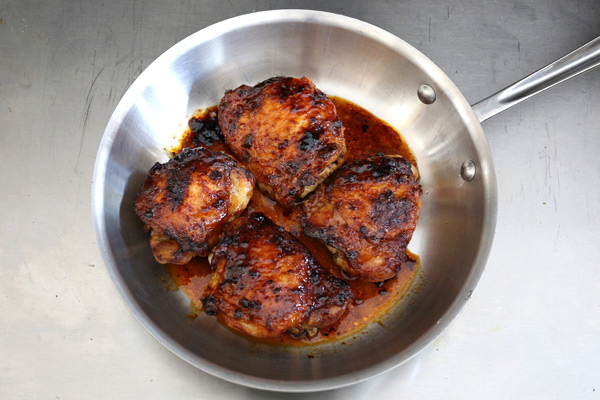 These easy roasted chicken thighs will quickly become a family favorite. A simple honey, soy sauce, and garlic combination flavors these juicy roasted chicken thighs.
Related:
Sweet and Spicy Chicken Thighs
Top 24 Easy Chicken Recipes
Prep Time: 10 minutes
Cook Time: 28 minutes
Total Time: 38 minutes
Ingredients:
Instructions:
In a small bowl, combine the honey, soy sauce, vinegar, garlic, and about 1/8 teaspoon of black pepper. Set aside.
Sprinkle the chicken lightly on both sides with kosher salt and freshly ground black pepper.
Heat the oil in a large skillet over medium-high heat. When the oil is very hot, arrange the chicken thighs in the skillet, skin-side down. Cook for 5 to 6 minutes, or until the skin is golden browh. Turn the chicken and cook for about 1 to 2 minutes longer.
Remove the chicken to the preheated oven and roast for about 10 minutes. Brush with the honey garlic mixture; return to the oven and continue roasting for 8 to 10 minutes, or until the chicken registers about 175 F.
Note: The minimum safe temperature for chicken is 165 F. Check the largest chicken thighs for doneness with a reliable instant read thermometer inserted into the meat, not touching bone.
4 Servings
Site Search