Baked Creole Halibut Fillets
by
, June 18, 2017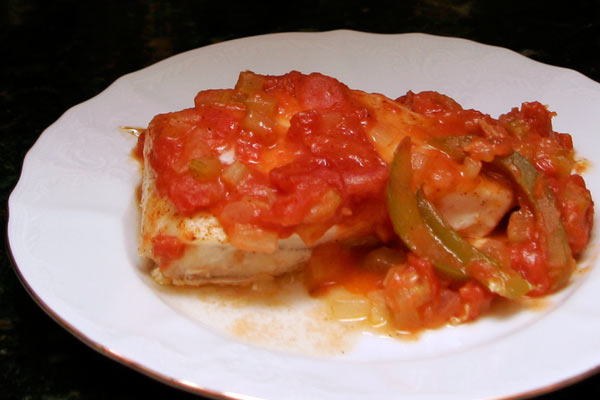 These halibut fillets are baked with a fabulous Creole-style sauce mixture. The sauce is made with a basic roux, tomatoes, and vegetables.
Prep Time: 15 minutes
Cook Time: 40 minutes
Total Time: 55 minutes
Ingredients:
Instructions:
Cook the bacon in a medium saucepan until crisp; remove to paper towels to drain. Crumble and set aside.
Discard all but 2 tablespoons of bacon drippings or add oil, if necessary, to make 2 tablespoons.
Add the flour to the drippings; continue to cook over medium heat, stirring constantly, until the roux mixture is medium brown.
Add the chopped vegetables all at once and continue cooking over medium heat for about 5 minutes, stirring frequently.
To the roux mixture, add the Creole seasoning, tomatoes, chicken broth, the Worcestershire sauce, and a few dashes of Tabasco sauce. Simmer the mixture for about 15 to 20 minutes, or until thickened, stirring occasionally.
Meanwhile, preheat the oven to 350 F.
Butter a large baking dish.
If the halibut fillets are large, cut into four serving portions.
Arrange the fillets in the buttered baking dish and brush or drizzle with 2 tablespoons of melted butter.
Place halibut in the oven and bake for 10 minutes.
Spoon the tomato and vegetable mixture over the fish and bake for 10 to 15 minutes longer, or until fish flakes easily with a fork.
Sprinkle the reserved bacon over the fillets and serve with baked potatoes or rice.
Makes 4 Servings
Site Search