Grilled Ribs With Chipotle Rub and Maple Apple Grill Sauce
by
, May 9, 2017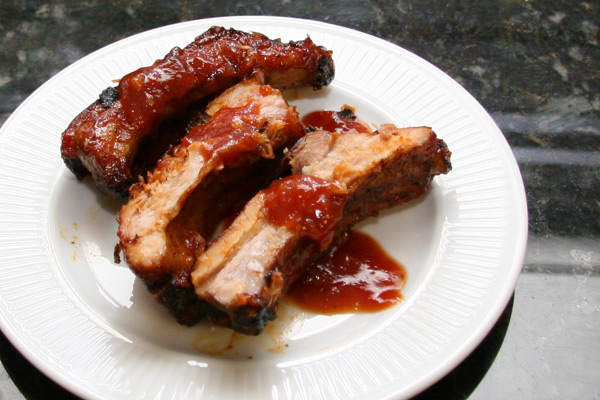 A chipotle pepper rub and maple applesauce grill sauce flavors these succulent grilled spareribs. If you don't have chipotle powder, use some cayenne for heat.
Prep Time: 20 minutes
Cook Time: 2 hours
Total Time: 2 hours 20 minutes
Ingredients:
Instructions:
Heat the oven to 350 F.
Line a large roasting pan with foil and then brush lightly with oil.
Cut the spareribs into serving-size portions. Combine the brown sugar, pepper, onion powder, salt, chili powder, and 1 teaspoon of ground chipotle pepper. Generously rub the ribs with the seasoning mixture and them in the prepared pan, meaty side down.
Bake the ribs for 45 minutes. Turn and bake for 45 minutes longer.
Prepare the grill for medium direct heat.
Brush the ribs with the maple apple barbecue sauce and grill for about 15 minutes.
Meanwhile, prepare the sauce.
Heat the vegetable oil in a skillet or saucepan over medium heat. Add the chopped onion and cook, stirring, for about 2 minutes. Add the garlic and cook for 1 minute longer. Add the remaining ingredients and bring to a simmer. Lower heat to medium-low and simmer, uncovered, for about 5 minutes.
Makes about 2 cups of sauce.
Makes 4 to 6 Servings
Site Search