Grilled Marinated Flank Steak
by
, August 25, 2017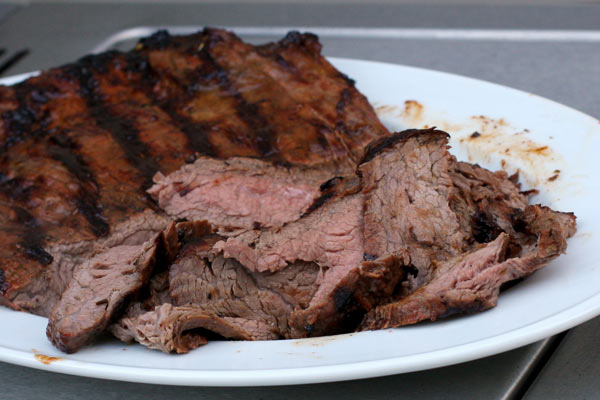 This easy grilled flank steak gets extra flavor and tenderness from the simple marinade. The recipe for the marinade includes Worcestershire sauce, soy sauce, garlic, and Cajun seasoning or a similar seasoning blend.
Related:
Grilled Flank Steak With Coffee Marinade
Prep Time: 10 minutes
Cook Time: 10 minutes
Total Time: 20 minutes
Ingredients:
Instructions:
Put the flank steak in a large food storage bag or nonreactive container.
Combine the soy sauce, oil, Worcestershire sauce, lemon juice, garlic, Cajun seasoning, and black pepper. Whisk to blend. Pour the marinade mixture over the flank steak. Seal the bag or cover the container tightly; turn to coat the steak thoroughly.
Refrigerate the steak in the marinade for 2 to 4 hours, turning occasionally.
Heat the grill.
Discard the marinade and grill the steak over direct heat to desired doneness, or about 4 minutes on each side for medium rare, or about 135 F.*
Slice the steak thinly across the grain to serve.
*The USDA recommends a minimum safe temperature of 145 F for beef, which is

Makes 4 to 6 servings.
Site Search