Green Tomato, Apple, and Grape Chutney
by
, October 20, 2017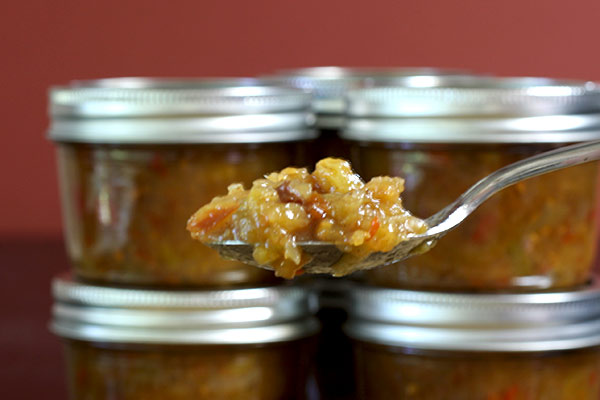 This is a lovely end-of-season chutney made with green tomatoes, apples, and grapes. Use half dark and golden raisins or half raisins and half dried cranberries or cherries in the chutney.
Related:
Mom's Bread and Butter Pickles
Quick Pickled Onions
Prep Time: 30 minutes
Cook Time: 1 hour 45 minutes
Total Time: 2 hours 15 minutes
Ingredients:
Instructions:
Combine the green tomato wedges, diced apples, brown sugar, vinegar, raisins, onions, and salt in a large nonreactive stockpot or Dutch oven; stir well. Bring to a boil; reduce heat to low and simmer, uncovered, for 30 minutes. Add the grapes and seasonings; stir well.
Continue cooking, uncovered, over medium-low heat for 1 hour, or until mixture is thickened.
Meanwhile, wash the jars and lids in hot soapy water. Put the jars put them in a large water bath canner. Fill the pot with water and bring to a simmer. Reduce the heat to low and simmer for 10 minutes.
Put the lids in a saucepan of water; bring to a simmer. Remove from the heat.
Spoon the chutney into the hot sterilized jars, leaving 1/4-inch head space; wipe jar rims and threads.
Cover at once with the lids. Screw the bands on firmly but do not overtighten.
Put the jars in a rack and lower them into the canner. The water should be at least 1 inch above the jars; add more hot water, if necessary.
Bring the water to a boil. Cover and reduce the heat to maintain a gently boil and process for 15 minutes -- 20 minutes for altitudes of 1001 to 6,000 feet.
Makes about 6 pints.
Site Search