Moist Fruit Cocktail Bundt Cake
by
, August 11, 2017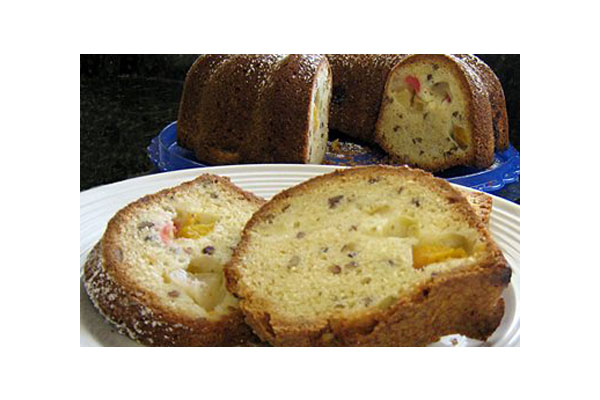 This fruit cocktail cake is a moist Bundt cake with bits of fruit and some chopped nuts throughout the batter. Use canned diced peaches or pears if you like.
Prep Time: 10 minutes
Cook Time: 35 minutes
Total Time: 45 minutes
Ingredients:
Topping
Instructions:
Butter and flour a 12-cup Bundt cake pan. Heat oven to 350 F.
Place a mesh strainer over a bowl and drain the fruit. Reserve 1/3 cup of syrup. If desired, chop the fruit more finely; set the fruit aside.
In a mixing bowl with an electric mixer, combine the granulated sugar, the 1/3 cup of reserved syrup, vegetable oil, vanilla, and eggs. Beat for about 4 minutes, until well blended.
In another bowl, combine the flour, baking powder, and salt; stir into the first mixture a little at a time, blending well. Fold in the chopped pecans.
Spoon about half of the batter into the prepared baking pan. Arrange fruit pieces over the batter, then spoon remaining batter over the fruit. Spread gently to cover.
Bake for 1 hour and 15 minutes to 1 hour and 25 minutes, or until a toothpick inserted into the center of the cake comes out clean.
Cool the cake in the pan on a rack for 10 minutes; turn the cake out of the pan onto a cake plate.
Brush the warm cake with the melted butter and sprinkle with confectioners' sugar.
Makes 12 to 16 Servings
Site Search