Festive Coconut Shortbread Squares With Candied Cherries
by
, October 22, 2017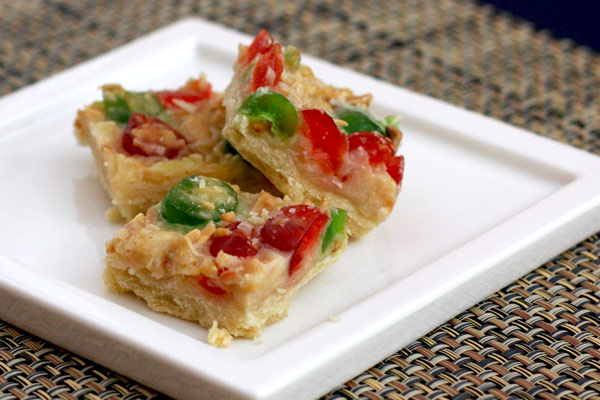 These festive shortbread squares are fabulous Christmas treats. The buttery shortbread crust is topped with a mixture of almonds, coconut, candied cherries, and sweetened condensed milk.
Related:
Easy Cake Mix Oat Bars With Chocolate Filling
Graham Blondies With Chocolate Chips
Prep Time: 10 minutes
Cook Time: 10 minutes
Total Time: 20 minutes
Ingredients:
Instructions:
Heat the oven to 350 F.
Lightly grease a 9-by-13-by-2-inch baking pan or spray it lightly with baking spray.
Put the almonds in a dry skillet and place it over medium heat. Cook the almonds until lightly browned and aromatic, turning and stirring constantly. Remove to a plate to cool completely.
In a mixing bowl with an electric mixer, combine the butter, flour, sugar, and 1/2 teaspoon of the almond extract; beat just until the mixture begins to clump together. Pat the mixture evenly into the prepared pan.
Bake the crust mixture for 15 minutes. Remove from the oven and let it cool for about 20 minutes.
Combine the toasted almonds with the coconut and candied cherries. Toss with the remaining 1/4 teaspoon of almond extract; sprinkle over the cooled crust.
Drizzle the sweetened condensed milk evenly over the coconut and almond mixture. Return to the oven and bake for 20 to 25 minutes, or until lightly browned.
Cool and chill before cutting into squares.
Makes about 2 dozen squares.
Site Search