Farro Salad Recipe With Tomatoes and Bacon
by
, September 25, 2017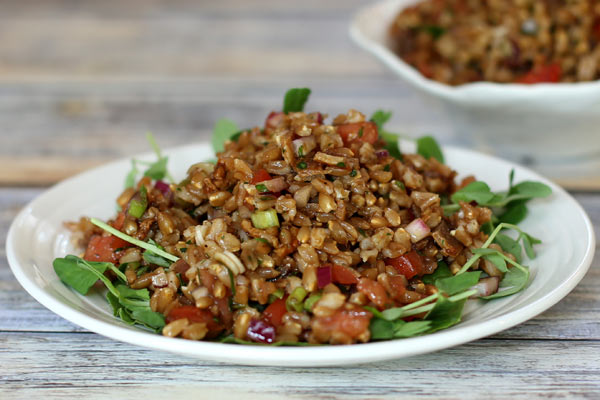 Farro, a versatile wheat grain, is similar to barley or wheat berries, and it can be an excellent addition to salads or soups. Since it doesn't become mushy over long periods of cooking, it makes a nice substitute for rice in slow cooker dishes.

This farro salad is an easy preparation. The garlic dressing flavors the farro and chopped vegetables perfectly. A combination of bacon, diced tomatoes, parsley, and red and green onions add color, texture, and flavor. Feel free to leave the bacon out or substitute with faux bacon. Serve the salad on romaine or iceberg lettuce leaves, salad greens, or pea shoots.
Related:
Broccoli Crunch Salad Recipe
Prep Time: 15 minutes
Cook Time: 30 minutes
Total Time: 45 minutes
Ingredients:
Dressing
Instructions:
In a medium saucepan, combine the water, farro, and 2 teaspoons of salt. Place the pan over high heat and bring to a boil. Reduce the heat to low, cover the pan, and simmer for about 30 minutes, until the farro is tender. Drain thoroughly and then transfer to a bowl and let cool.
In a serving bowl, combine the diced tomatoes, red and green onion, bacon, and parsley. Add the cooled farro with the vegetable mixture. Toss gently to blend ingredients.
In a small bowl, whisk the olive oil with the balsamic vinegar, garlic, and freshly ground black pepper. Drizzle the dressing over the farro and vegetables and then stir to combine. Taste and adjust seasonings, as needed.
Serve immediately or cover and refrigerate. Remove from the refrigerator about 15 to 20 minutes before serving.
Serve the salad over mixed salad greens or pea shoots.
Makes 6 servings.
Site Search