Fall Bean Bake With Butternut Squash, Smoked Sausage, and Apples
by
, October 10, 2017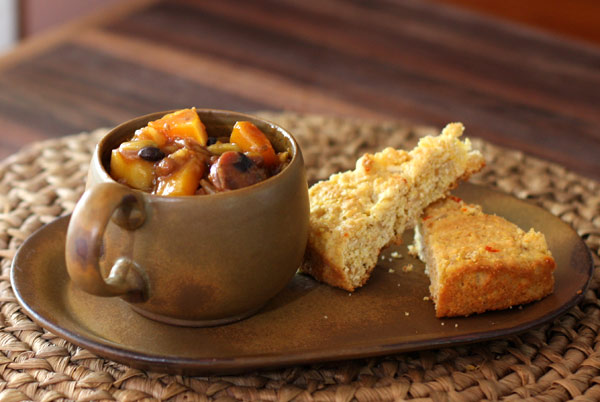 These beans make a hearty and delicious meal with cornbread or hot baked biscuits. The combination of baked beans with roasted butternut squash and apples is genius, and the spicy sausage makes the dish a satisfying meal. Feel free to replace the lima beans or black beans with pinto beans, great northern, or another variety of canned beans. The beans are excellent for fall and winter tailgating events or game day gatherings.
Related:
Baked Beans With Ground Beef
Easy Beef and Beans With Biscuits
Prep Time: 15 minutes
Cook Time: 50 minutes
Total Time: 1 hour 5 minutes
Ingredients:
Instructions:
Heat oven to 375 F.
Line a rimmed baking sheet with foil.
Peel the squash; cut the stem end off and then slice the squash in half lengthwise. Scoop out the seeds and then cut it into 1/2- to 1-inch cubes.
Combine the squash, apples, and onions in a large food storage bag or bowl. Sprinkle with the cinnamon, pepper, and 1 teaspoon of salt; toss to blend. Drizzle 3 tablespoons of olive oil over the squash mixture and toss to blend.
Spread the squash and apple mixture out on the prepared pan and bake for 30 minutes, or until tender.
Heat a teaspoon or two of olive oil in a large Dutch oven or stockpot; add the sliced sausage and cook until lightly browned, stirring constantly. Add the baked beans, brown sugar, lima beans, black beans, and barbecue sauce. Bring to a simmer. Reduce the heat to low and cover the pan. Simmer for 15 minutes. Add the roasted butternut squash, apple, and onion mixture and gently stir to combine. Heat through.
Serve with freshly baked cornbread or biscuits.
Makes about 10 to 12 servings.
Site Search