Eye of Round Roast With Mustard Herb Crust
by
, September 15, 2017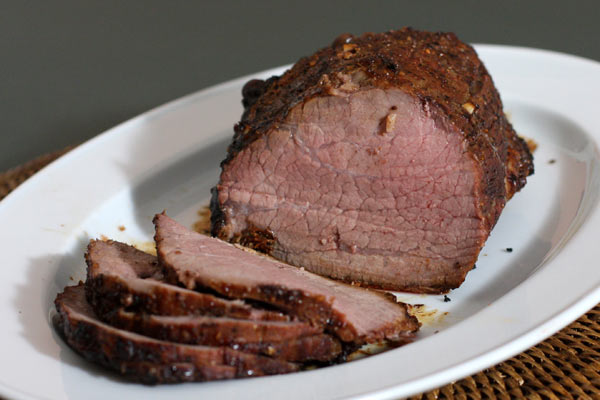 This simple eye of round roast is seasoned with a garlic and herb mustard rub. The mustard mixture makes a delicious crust on the lean beef roast. It will be your new go-to recipe for roast beef!
Related:
Roast Beef With Red Wine Sauce
Prep Time: 15 minutes
Cook Time: 1 hour
Total Time: 1 hour 15 minutes
Ingredients:
Instructions:
Heat oven to 450 F.
Line a roasting pan with foil; place a rack or several pieces of celery in the pan.
Place the roast, fat side up, on the rack or on a few celery ribs. Add some water or beef stock -- about 1/2 to 1 cup -- to the pan to keep juices from burning.
In a bowl, combine the mustard, red wine, garlic, tarragon, and black pepper. Rub roast all over with the mustard mixture.
Put the roast in the oven and reduce the heat to 325 F. Roast for about 1 to 1 1/2 hours, or until a meat thermometer registers about 130 F to 135 F for medium-rare or 145 F for medium. The temperature will rise about 5 degrees after it is removed from the oven.
Let the roast rest for about 10 minutes before carving.
Makes 8 servings.
Site Search