Tex-Mex Enchilada Casserole
by
, July 10, 2017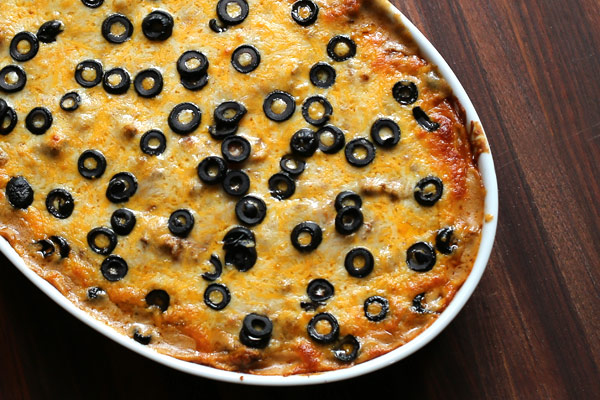 This Tex-Mex enchilada casserole is made with corn tortillas, a beef and refried bean filling, seasoned tomato sauce, and a delicious cheese topping.
Prep Time: 20 minutes
Cook Time: 35 minutes
Total Time: 55 minutes
Ingredients:
Instructions:
Preheat the oven to 350 F.
Lightly grease a 2 1/2-quart baking dish.
Heat the vegetable oil in a medium saucepan over medium heat. Add the 1/2 cup of chopped onion and bell pepper; saute until tender. Stir in tomato sauce, parsley, chili powder, 1/8 teaspoon pepper and bay leaf. Bring mixture to a boil; cover, reduce heat, and simmer 10 minutes. Remove bay leaf and set aside.
In a large skillet, combine the ground beef and the remaining 1/4 cup of chopped. Cook until beef is no longer pink, stirring frequently; drain.
Combine beef mixture, refried beans, taco sauce, salt, and garlic powder; set aside.
Wrap tortillas in aluminum foil. Bake the wrapped tortillas for 10 minutes.
Spoon half of sauce mixture into the prepared baking dish.
Spoon meat mixture evenly in center of each tortilla; fold opposite ends over and place seam side down on top of sauce in baking dish.
Spoon the remaining sauce over tortillas. Cover the baking dish tightly with foil and bake for 20 minutes.
Remove the foil and sprinkle with cheese and olives. Bake, uncovered, for about 5 minutes longer. S
Serve with shredded lettuce, chopped tomato, guacamole, and sour cream.
Makes 6 Servings
Site Search