Pulled Pork Empanadas
Updated July 1, 2017 by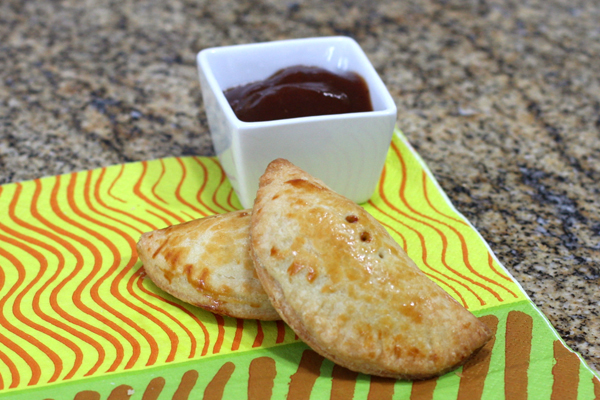 These little pulled pork empanadas make a fabulous appetizer or snack, and what a great way to use leftover pulled pork. You can also use purchased fully cooked pulled pork in barbecue sauce to fill the delicious little turnovers. Serve them with some barbecue sauce as a snack or lunch, or make them larger and serve as part of a fun supper with beans, slaw, and potato salad.
Prep Time: 15 minutes
Cook Time: 0 minutes
Total Time: 15 minutes
Ingredients:
Instructions:
In a food processor or large mixing bowl, combine the all-purpose flour, cornmeal, salt, and sugar. Pulse in the food processor or whisk by hand to blend thoroughly.
Cut the butter into small pieces and scatter over the flour mixture; pulse about 10 times or cut the butter in by hand using your fingers or a pastry blender. The mixture should look like coarse meal with many small pea-size pieces.
Transfer the flour and butter mixture to a large mixing bowl.
In a small bowl, whisk the egg yolks with 6 tablespoons of ice water.
Drizzle the egg and water mixture over the flour and butter mixture and then toss to mix. Continue mixing with your hands, adding a few more tablespoons of ice water, as needed. When the dough begins to clump together, turn it out onto a lightly floured surface. Knead, adding tiny amounts of ice water as needed. The dough should hold together but should not be too moist. You'll have about 1 1/2 pounds of dough.
Divide the dough into two uniform disks. Wrap each disk in plastic wrap. Refrigerate for about 25 to 30 minutes to chill.
Take a dough disk out of the refrigerator. On a lightly floured surface, roll the dough out to a 1/8-inch thickness. Add small sprinklings of flour, as needed to keep the dough from sticking. A piece of wax paper or parchment paper over the dough makes rolling easier.
Have the pulled pork ready. It should be moist but not at all runny. If the pork is chunky or stringy, chop it into smaller pieces.
Put the 2 tablespoons of milk or cream in a small bowl or cup.
Heat the oven to 400 F. Line two large baking sheets (half sheet size, about 18- x 13-inches) with parchment paper.
Using a 3- to 3 1/2-inch cutter, cut out dough circles. Or use a small inverted bowl and cut around it with a knife. Put the dough scraps together and let them rest for 5 to 10 minutes before rolling them out again.
Put about 1/2 tablespoon of pulled pork mixture into the center of a circle. Dab a little of the milk or cream all around the edge. Fold over to encase the pulled pork and press around the edge to seal. Crimp around the sealed edge with the tines of a fork. Place on one of the parchment paper-lined baking sheets. Repeat with the remaining cut-out circles.
Repeat with the remaining disk of dough.
Prick the top of each filled empanada with a fork or the end of a sharp knife to make a steam vent. At this point, you may cover the pans and refrigerate the unbaked empanadas until you're ready to bake.
When you're ready to bake, combine the egg yolk and 2 teaspoons of milk or cream. Brush lightly over each empanada. If you get a little too much egg wash on one, dab with a paper towel to soak up the excess.
Bake the empanadas for about 15 to 18 minutes, until golden brown.
Serve with barbecue sauce on the side.
32 to 36 Appetizer Servings
Site Search