Eggplant Roll-Ups With Ricotta Parmesan Filling
by
, October 12, 2017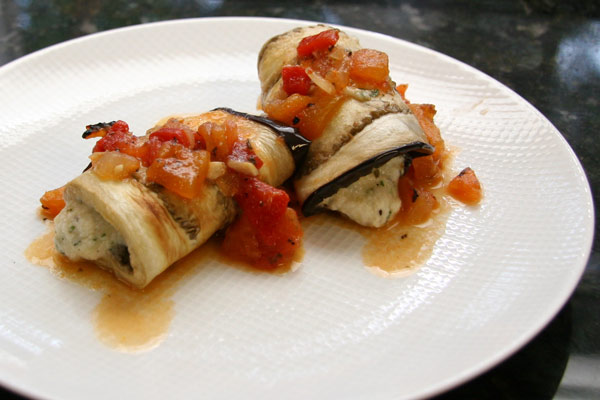 Eggplant ribbons are filled with a tasty ricotta and Parmesan cheese mixture. An easy tomato and roasted bell pepper sauce finishes the dish.
Related:
Lentil, Tomato, and Roasted Eggplant Soup
Prep Time: 20 minutes
Cook Time: 35 minutes
Total Time: 55 minutes
Ingredients:
Cheese Filling
Instructions:
Heat the oven broiler.
Spray a large baking sheet with cooking oil spray or brush with olive oil.
Slice the ends off of the eggplant.
With a large, sharp knife, slice the eggplant lengthwise into 1/4-inch thick slices.
Arrange the eggplant slices in a single layer on the prepared baking sheet. Brush each slice with olive oil or spray with cooking oil spray.
Broil until the eggplant slices are browned. Remove the pan to a rack to cool while you prepare the sauce and filling.
Preheat the oven to 375 F.
Heat the olive oil in a large skillet over medium heat; add the chopped onion and cook until softened and translucent. Add garlic and cook for 1 minute longer. Add the roasted red peppers, tomatoes, 1/2 teaspoon basil, 1/4 teaspoon salt, and a dash of pepper. Reduce heat to medium-low; cover and simmer for about 5 minutes, stirring occasionally. Set aside.
In a medium bowl, combine the ricotta cheese with the Parmesan cheese, 1/2 teaspoon of basil, 1 to 2 teaspoons of parsley, 1/4 teaspoon of salt, and a dash of black pepper. Blend thoroughly.
Pour the tomato sauce mixture into a 2-quart baking dish. Spoon a few teaspoons of the cheese mixture onto the end of an eggplant slice Roll the eggplant up around the filling and place it on the tomato mixture, seam-side down. Repeat with remaining eggplant slices.
Cover the baking dish with foil and bake for 20 minutes.
Makes 4 servings.
Site Search