Mocha Cream Sponge Cake Dessert
by
, August 4, 2017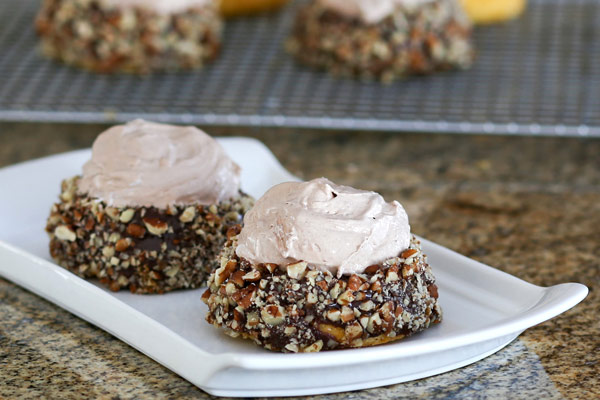 As special as this dessert looks, it's surprisingly easy to put together. Store-bought sponge cakes are gussied up with a fabulous coating and easy filling. If you aren't a fan of nuts, roll the desserts in toasted coconut.
Prep Time: 15 minutes
Cook Time: 5 minutes
Total Time: 20 minutes
Ingredients:
Instructions:
In the top of a double boiler or bowl (heat-proof) over simmering water, combine the marshmallows, salt, and milk; cook until the marshmallows have melted, stirring constantly.
Remove the marshmallow mixture from the heat and stir in the chocolate chips, espresso powder, and cinnamon.
Fold 1/2 cup of the marshmallow mixture into the whipped cream or whipped topping; cover and refrigerate until thoroughly chilled.
With remaining chocolate mixture, frost top edge and sides of sponge cake cups (if the mixture has stiffened, place the pan back over simmering water until it is easier to spread), then roll the sponge cakes in chopped pecans.
Spoon a big dollop of the chilled mocha filling into each dessert cup. Chill.
Makes 8 Servings
Site Search