Easy Grilled Chicken
Updated July 1, 2017 by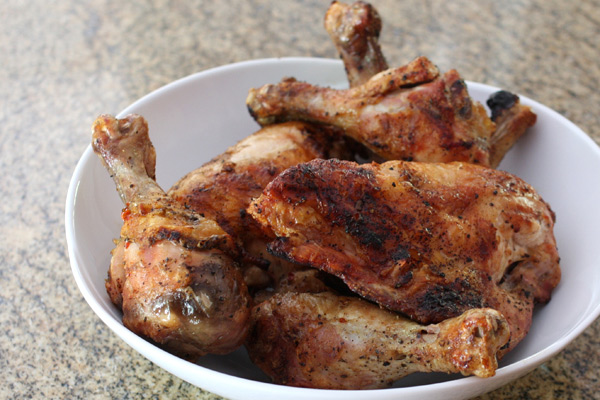 This grilled chicken is brushed with a simple seasoned vinegar and oil mixture. Serve the chicken with your favorite barbecue sauce or a sweet-sour sauce.
Related:
Top 24 Easy Chicken Recipes
Prep Time: 10 minutes
Cook Time: 30 minutes
Total Time: 40 minutes
Ingredients:
Instructions:
Heat a gas grill for high direct heat, about 450 F. If you are using a charcoal grill, prepare one side for high heat and the other side medium heat.
Sprinkle the chicken pieces all over with salt, pepper, and garlic powder.
In a small bowl or measuring cup, combine the water, vinegar, oil, and crushed red pepper.
Sear the chicken over high heat for 2 to 3 minutes on each side. Lower the heat to medium, or about 350 F or move the chicken to the lower heat side.
Brush the chicken pieces with some of the sauce.
Close the grill lid and cook for about 10 minutes.
Brush the chicken pieces again and turn; close the lid and cook for 10 minutes longer.
Repeat brushing and turning 2 to 3 more times, or until the chicken tests done. The safe minimum temperature for chicken and other poultry is 165 F. Check in several places (not touching bone) with a reliable instant-read thermometer.
4 Servings
Site Search