Easy Slow Cooker Ground Beef and Vegetable Soup
by
, October 13, 2017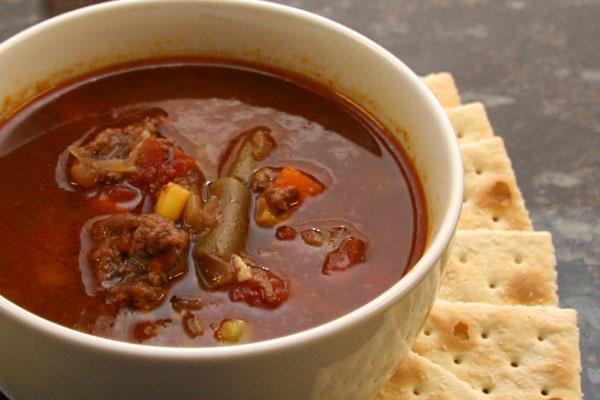 Condensed beef broth and onion soup make this slow cooker ground beef soup a snap to fix, and they add tremendous flavor. Ground beef makes it a hearty dish for lunch or supper. Frozen mixed vegetables are added near the end of the cooking time. Drained canned beans would be a nice addition to the soup as well.
Related:
Slow Cooker Hamburger Soup
Prep Time: 15 minutes
Cook Time: 6 hours
Total Time: 6 hours 15 minutes
Ingredients:
Instructions:
Heat the olive oil in a large skillet. When the oil is shimmering, add the ground beef. Cook until the beef is browned and no longer pink. Drain the beef well and transfer to the slow cooker.
Add the onion and celery to the skillet and cook for about 3 to 4 minutes, stirring frequently (add a little more oil, if necessary). Add to the slow cooker with the beef. Add canned French onion soup and beef broth along with the water and tomatoes.
Cover and cook on LOW for 4 to 6 hours.
Add the frozen mixed vegetables and continue cooking on LOW for 30 to 45 minutes, or until the vegetables are tender.
Makes 4 to 6 servings.
Site Search