Easy Cake Mix Oat Bars With Chocolate Filling
by
, September 28, 2017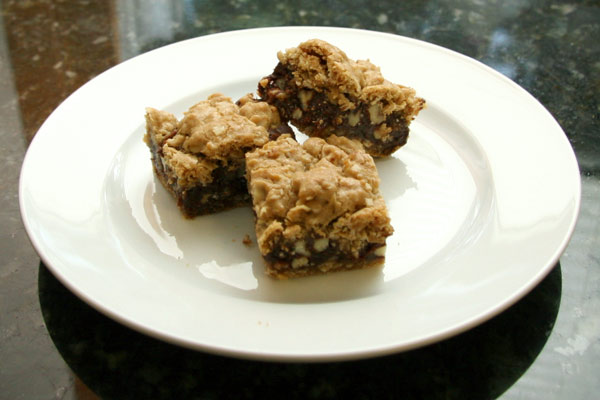 These chocolate filled butter pecan bars are made with a cake mix and a chocolate sweetened condensed milk filling. The butter pecan cake mix makes the preparation especially easy, and oats give the bars a nice, chewy texture. They're similar to the popular "revel bars."
Related:
Brown Sugar Bars With Chocolate Chips
Semi-Homemade Brownies With Penuche Frosting
Prep Time: 10 minutes
Cook Time: 25 minutes
Total Time: 35 minutes
Ingredients:
Filling
Instructions:
Heat oven to 350 F.
Grease and flour a 9-by-13-by-2-inch baking pan.
Beat 6 ounces of butter with the brown sugar until light; beat in eggs and 2 teaspoons vanilla. Slowly beat in the cake mix and oats until well blended.
In a saucepan, combine the sweetened condensed milk with chocolate chips, a pinch of salt, and 1 tablespoon butter. Cook over medium-low heat, stirring frequently until chocolate chips are melted, and the mixture is smooth.
Stir in the chopped pecans.
Spread about two-thirds of the cake batter in the prepared pan.
Spoon filling over the cake layer and spread to cover.
Pinch pieces of the remaining batter and arrange the pieces evenly over the filling.
Bake for 25 to 30 minutes, until set and golden brown.
Makes 36 servings.
Site Search