Chewy Double Chocolate Chip Cookies
by
, October 2, 2017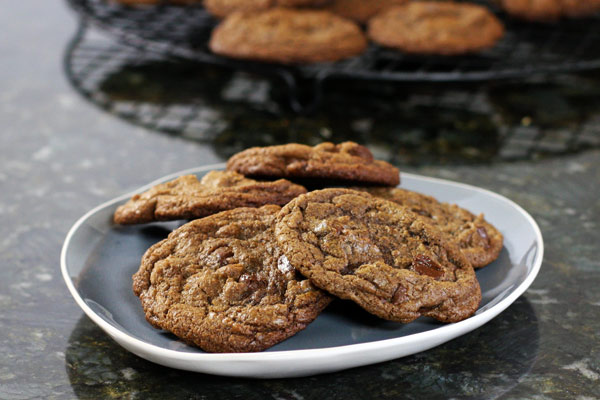 These chewy chocolate chip cookies are made with a cocoa dough and semisweet chocolate chips. The cookies are easy to prepare and bake. The recipe makes about 3 dozen cookies. Add chopped pecans or walnuts to the cookies if you like.
Related:
Edible Chocolate Chip Cookie Dough
Soft Chocolate Chip Cookies
Prep Time: 10 minutes
Cook Time: 12 minutes
Total Time: 22 minutes
Ingredients:
Instructions:
In a bowl, combine the flour, cocoa powder, salt, and baking soda. Stir to blend and set aside.
In a mixing bowl with an electric mixer, beat the melted butter with brown sugar and granulated sugar until smooth. Cool slightly and then beat in egg and egg yolk. Beat in vanilla.
Slowly beat the dry ingredients into the butter and sugar mixture until well blended. Fold in chocolate chips.
Chill the dough for at least 1 hour, or until firm.
Heat oven to 350 F.
Using a cookie scoop or tablespoon, scoop mounds of dough onto a silicone-lined or greased baking sheet, leaving about 2 inches between cookies.
Bake for 12 to 15 minutes, until set.
Cool the cookies on the baking sheet on a rack for a few minutes and then remove them to rack to cool completely.
Makes 36 servings.
Site Search