Date Bars With Shortbread Crust and Crumb Topping
by
, June 21, 2017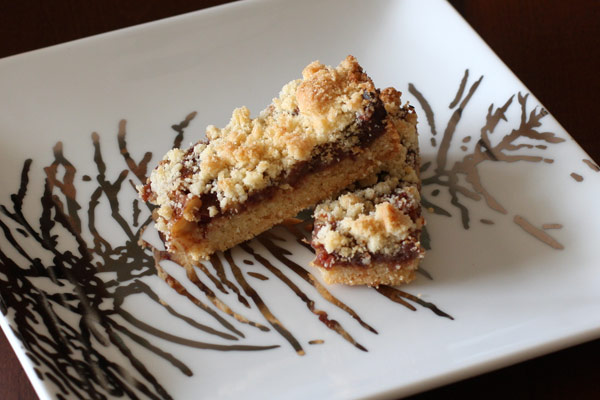 If you love buttery shortbread and love dates, you will love these delicious date bars. The date mixture is spread over the baked shortbread crust. Buttery shortbread crumbs are sprinkled over the date filling and the bars are baked to perfection.
Prep Time: 15 minutes
Cook Time: 30 minutes
Total Time: 45 minutes
Ingredients:
Instructions:
Combine the dates, nuts, 1 teaspoon vanilla, and water in a medium saucepan. Place the pan over medium heat and bring to a boil; reduce heat to low and simmer until thickened, about 8 to 10 minutes, stirring frequently. Set aside to cool.
Preheat the oven to 350 F.
Lightly butter a 9-by-13-by-2-inch baking pan or spray the pan with baking spray.
In a mixing bowl with electric mixer, combine the flour, sugar, baking powder, salt, butter, 1 teaspoon vanilla, and egg. Mix until crumbly. Set aside 1 cup of the mixture and pat the remaining crumb mixture into the bottom or the prepared baking pan. Spoon date mixture evenly over the crust and spread gently to cover.
Sprinkle evenly with the remaining 1 cup of crumbs.
Bake for 30 to 35 minutes, or until browned.
Cool completely before cutting.
Makes 36 Servings
Site Search