Easy Skillet Chicken and Rice Curry
by
, June 20, 2017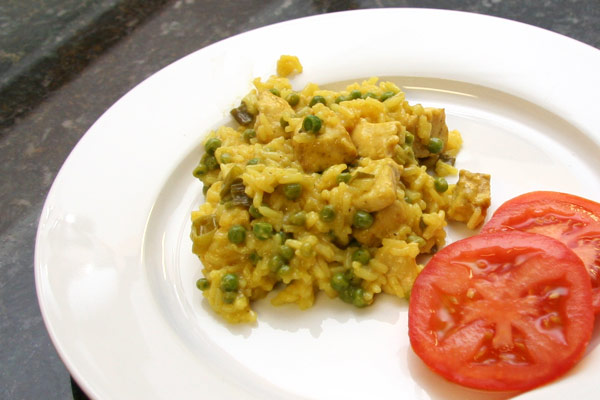 Curry powder gives this chicken and rice recipe fabulous flavor and color. Peas and green onions are added to make it a complete meal. The dish takes about 30 to 40 minutes, start to finish.
Related:
Coconut Curry Chicken Breasts
Top 24 Easy Chicken Recipes
Prep Time: 10 minutes
Cook Time: 20 minutes
Total Time: 30 minutes
Ingredients:
Instructions:
Cut chicken breasts into 1/2-inch pieces; transfer to a bowl.
In a small bowl, combine the brown sugar, curry powder, mustard, salt, and pepper. Set aside.
Sprinkle the chicken with 1 tablespoon of the flour and 1 scant tablespoon of the curry powder seasoning mixture; toss to coat chicken pieces.
Heat the olive oil in a large skillet; add the chicken and cook, stirring, until lightly browned, about 2 to 4 minutes. Add the green onions and cook for 1 minute longer.
Combine the remaining curry powder seasoning mixture with the chicken broth and orange juice. Add the orange juice mixture to the skillet and stir in the rice. Bring to a boil then reduce heat to low.
Cover and cook for 15 minutes. Stir in peas or peas and carrots; cover and simmer for about 5 minutes longer, or until liquids are absorbed and the rice is tender.
Makes 4 to 5 Servings
Site Search