Curried Deviled Eggs
by
, August 23, 2017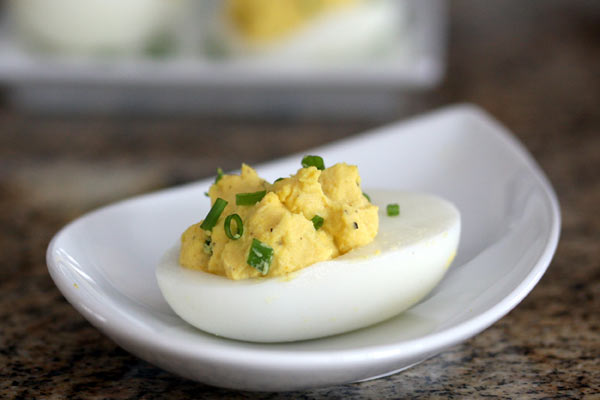 Curry powder and lemon juice flavor these delicious deviled eggs. This recipe makes 24 pieces -- it's easily scaled up or down.
Related:
Deviled Eggs With Bacon
Prep Time: 20 minutes
Cook Time: 18 minutes
Total Time: 38 minutes
Ingredients:
Instructions:
Place the eggs in a medium saucepan and cover with water to a depth of at least 1 inch above the eggs.
Cover the pan and bring to a full boil over high heat. Remove the pan from the heat and do not lift the cover. Let stand for about 17 to 20 minutes. Less time means moister egg yolks.
After the time is up, drain the eggs and cover with cold water. When the eggs are cool enough to handle, peel them under running water.
With a sharp knife, slice the eggs in half lengthwise and arrange the halves on a serving tray or special egg plate.
If necessary, slice a small, thin slice from the bottom of each egg half to keep them from rolling. Or arrange them on mixed salad greens, lettuce, or kale.
With a spoon, gently scoop the yolks out into a bowl.
With a fork mash the yolks. Add the mayonnaise, lemon juice, curry powder, and ground mustard. Taste and add salt and pepper, as needed.
With a spoon or small scoop, fill the egg white halves with the egg yolk mixture.
Sprinkle the filled eggs with finely chopped chives, chopped fresh cilantro, or finely chopped green onion tops.
Tips

To peel hard-boiled eggs, tap them on the top and bottom and then roll them under your hand to crack all over. Start peeling at the wide end where there is a small amount of air. Very fresh eggs are more difficult to peel cleanly, so buy eggs about 1 week or less from the expiration date.


Makes 24 Servings
Site Search