Cucumber Salsa With Corn and Tomatoes
by
, April 26, 2017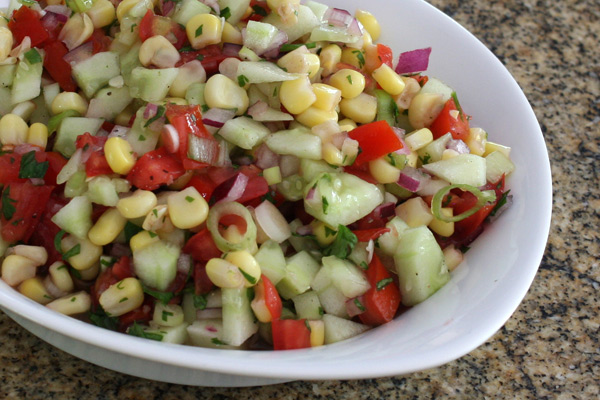 Serve this fresh cucumber salsa with fish, salmon croquettes, or chicken. It's a refreshing salsa to make with garden fresh cucumbers. If you cucumbers come from your garden or the local farmer's market, you can leave the peels on.
Prep Time: 15 minutes
Total Time: 15 minutes
Ingredients:
Instructions:
Peel the cucumber, if desired. Cut the cucumber in half lengthwise and scoop the seeds out. Dice.
In a bowl, combine the diced cucumber with the corn, diced tomatoes, garlic, cilantro, green and red onion, jalapeno pepper, lime juice, and vinegar. Taste and season with salt and pepper, as needed.
Cover and refrigerate until serving time.
6 to 8 Servings
Site Search