Creamy Cucumber Salad With Sour Cream and Dill
by
, March 28, 2017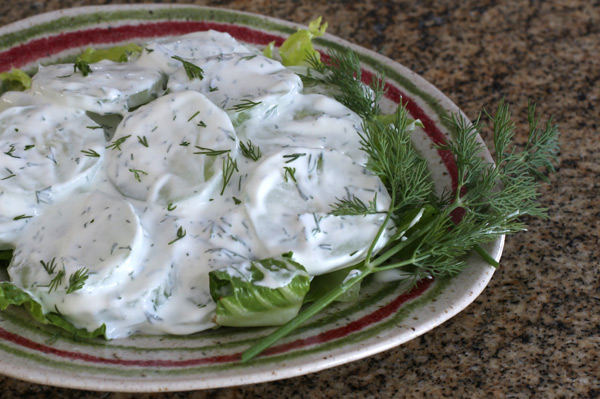 This cucumber salad is such a simple recipe, and yet it is usually the favorite salad of the cookout or family meal. The sour cream dressing is tangy with some red onion and the fresh chopped dill. It's a fabulous way to enjoy summer cukes.
Prep Time: 15 minutes
Cook Time: 0 minutes
Total Time: 15 minutes
Ingredients:
Instructions:
Peel the cucumbers and slice them thinly; put them in a serving bowl.
In a small bowl, combine the sugar, salt, sour cream, finely chopped onion, lemon juice or vinegar, and chopped dill. Blend well.
Add the dressing mixture to the cucumbers and toss to coat.
Season to taste with freshly ground black pepper.
Refrigerate until thoroughly chilled, at least 1 hour.
8 Servings
Site Search