Peach Crumb Cake With Streusel Topping
by
, May 7, 2017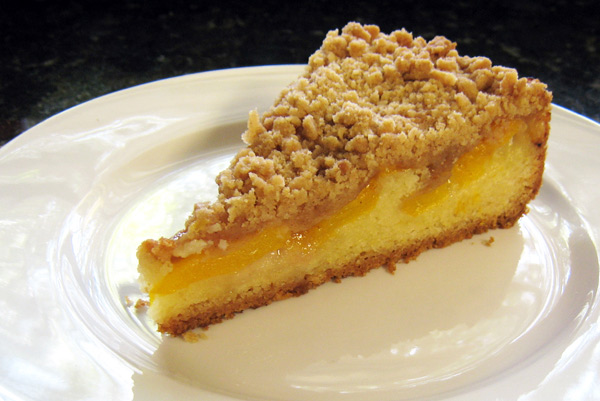 This yummy peach cake is a moist crumb cake topped with a buttery brown sugar and cinnamon crumble mixture. Use fresh peaches for the cake. Add some finely chopped pecans to the topping for extra crunch if you'd like. It makes a great coffee cake or dessert. Serve it warm with a scoop of ice cream for a fabulous summer dessert.
Prep Time: 20 minutes
Cook Time: 50 minutes
Total Time: 1 hour 10 minutes
Ingredients:
Instructions:
Preheat the oven to 350 F.
Grease and flour a 9-inch springform pan.
In a mixing bowl with an electric mixer, beat 10 tablespoons butter and the granulated sugar until light and fluffy. Beat in eggs, one at a time, beating well after each addition. Add the vanilla and blend well.
In another bowl, combine the 1 2/3 cups flour, baking powder, and salt. Slowly beat the dry ingredients into the creamed mixture until well blended, scraping the sides of the bowl a few times. The batter will be thick.
Spread the batter in the prepared baking pan. Slice the peaches and arrange over the batter, pressing lightly, overlapping as needed.
In a medium bowl, combine the 1/3 cup of flour, 4 tablespoons of brown sugar, 3 tablespoons of butter, and 1 teaspoon of cinnamon with a pastry blender, fingers, a or fork until crumbly. Sprinkle the crumbs over the peaches.
Bake the cake in the preheated oven for 50 to 60 minutes, or until golden brown and peaches are tender and bubbly.
Makes 8 to 10 Servings
Site Search