Slow Cooker Cranberry Meatballs
by
, July 8, 2017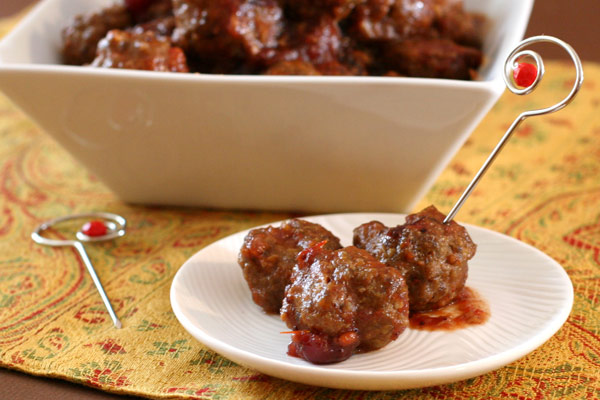 These meatballs are perfect for holiday parties and tailgating. I use whole cranberry sauce in the recipe, but feel free to use jellied. They're similar to grape jelly or currant jelly meatballs. Skip the onions if you aren't a fan.
Prep Time: 20 minutes
Cook Time: 1 hour 30 minutes
Total Time: 1 hour 50 minutes
Ingredients:
Instructions:
Preheat the oven to 350 F.
Line a large rimmed baking sheet with foil and place a cooling rack in the pan.
In a large bowl, combine the ground beef, cornflake crumbs or bread crumbs, parsley, eggs, ketchup, onion (if using), soy sauce, garlic powder, and pepper. Blend ingredients well and form into small meatballs about 3/4-inch in diameter.
Place on the rack in the baking pan. Bake for 25 to 30 minutes, or until thoroughly cooked. The USDA recommends a temperature of 160 F for ground meat or 165 F for ground poultry.
While meatballs are cooking, combine cranberry sauce, chili sauce, brown sugar, and lemon juice in a saucepan. Cook, stirring, over medium heat until mixture is blended.
Transfer the cooked meatballs to the slow cooker. Pour the hot cranberry sauce mixture over the meatballs.
Cover and cook on LOW for 1 to 2 hours before serving. Keep the slow cooker on the LOW or KEEP WARM setting for serving.
Makes about 4 dozen meatballs.
Makes 48 Servings
Site Search