Slow Cooker Chicken Enchiladas
by
, March 28, 2017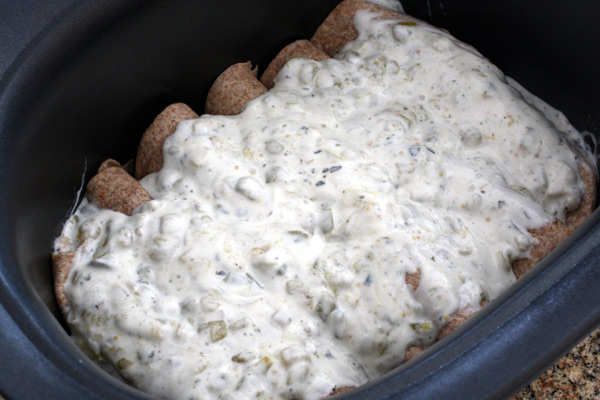 These slow cooker enchiladas make an easy everyday family meal. The chicken filling is flavored with cheese, sour cream, green chile peppers, and cilantro.
Related:
Slow Cooker Chicken With Mushrooms and Tomatoes
Top 24 Easy Chicken Recipes
Prep Time: 20 minutes
Cook Time: 4 hours 20 minutes
Total Time: 4 Hours 40 minutes
Ingredients:
Instructions:
Lightly grease the bottom and sides of the slow cooker.
In a bowl, combine the shredded chicken with 2 cups of the cheese, chopped green chile peppers, jalapeno pepper, if using, 1/4 cup chopped cilantro, and 1/2 cup of sour cream; stir to blend thoroughly.
Divide the chicken mixture evenly among all eight tortillas.
Roll the tortillas up and arrange them, seam side down, in the greased slow cooker. If necessary, stack them.
In a small bowl, combine the salsa with the remaining 1 cup of sour cream. Spoon the mixture over the tortillas.
Cover and cook on LOW for 4 hours. Sprinkle the tortillas with the remaining shredded cheese.
Cover and cook on LOW for about 20 minutes longer.
6 Servings
Site Search