Crockpot Beef and Beer Stew
by
, April 14, 2017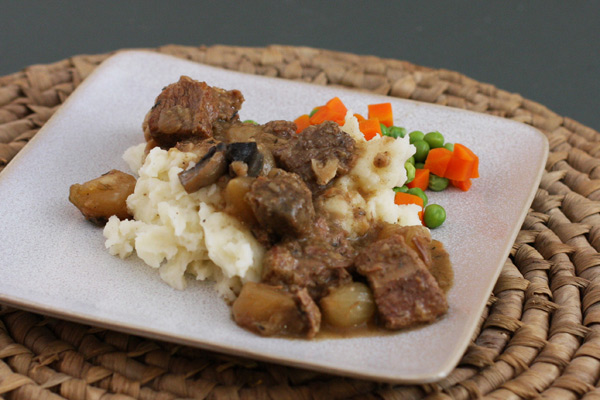 Beer and beef broth make this a flavorful stew, and it's a snap to fix and cook in the crockpot. Browning the beef gives the beef more flavor, but you can skip that step if you're in a hurry.
Prep Time: 15 minutes
Cook Time: 8 hours 10 minutes
Total Time: 8 hours 25 minutes
Ingredients:
Instructions:
In a wide, shallow bowl or bag, combine the flour, 1 1/2 teaspoons of salt, the paprika, and pepper. Add the beef cubes to the flour mixture and toss to coat.
Place a large skillet over medium heat. Add the diced bacon and cook for about 4 to 5 minutes. Remove the bacon to peper towels. Add the beef cubes to the drippings and cook, turning, until browned. You'll probably have to work in batches. Remove the browned beef to the slow cooker.
Add the beer and beef stock to the skillet and scrape up any browned bits in the pan. Bring to a boil and then pour it over the beef.
To the beef and liquids in the slow cooker add the cooked bacon, onions, and mushrooms.
In a bowl, combine sugar, vinegar, thyme, and bay leaves. Stir to blend and pour over the beef mixture.
Cover and cook on LOW for 8 to 10 hours.
Skim the fat from the liquids or strain into a gravy separator. Pour the defatted liquidesinto a saucepan and simmer for about 5 minutes to reduce slightly and concentrate the flavors.
Add the flour and cold water mixture to the simmering juices and cook until thickened. Combine the thickened liquids with the beef mixture.
Serve beef with noodles or rice.
8 to 10 Servings
Site Search