Creamy Veal Marsala
by
, August 14, 2017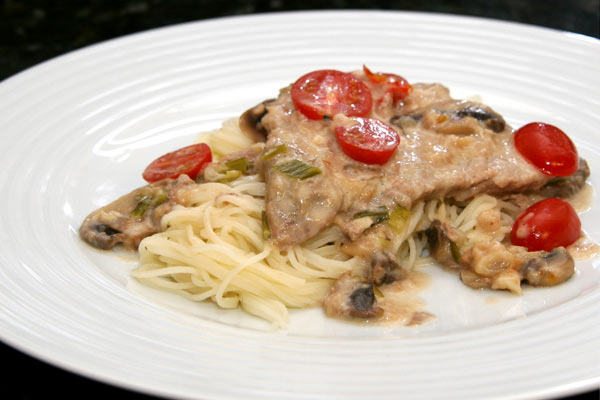 In this simple recipe, veal cutlets are cooked with a creamy Marsala sauce. This veal Marsala includes grape tomatoes, mushrooms, and cream. It's a wonderful dish to serve with angel hair pasta or rice.
Related:
Veal Chops With Mushrooms
Prep Time: 10 minutes
Cook Time: 13 minutes
Total Time: 23 minutes
Ingredients:
Instructions:
If the veal cutlets are thick, put them between sheets of plastic wrap and pound gently to thin. Sprinkle the veal cutlets with salt and pepper and dredge in flour to coat both sides.
Heat the olive oil in a skillet over medium-high heat. Add the veal and brown for about 2 minutes on each side.
Remove veal to a plate and set aside.
To the skillet add the mushrooms and cook, stirring, until lightly browned, about 2 minutes. Add the green onions and garlic; cook, stirring, for 2 minutes longer. Add the wine and broth.
Add the veal back to the skillet. Simmer the veal, uncovered, for 5 minutes. Add the tomatoes and cream; bring to a simmer. Lower the heat, cover the pan, and simmer for 2 minutes longer.
Serve with hot cooked angel hair pasta.
Makes 6 Servings
Site Search