Family Favorite Creamy Coleslaw
by
, January 18, 2018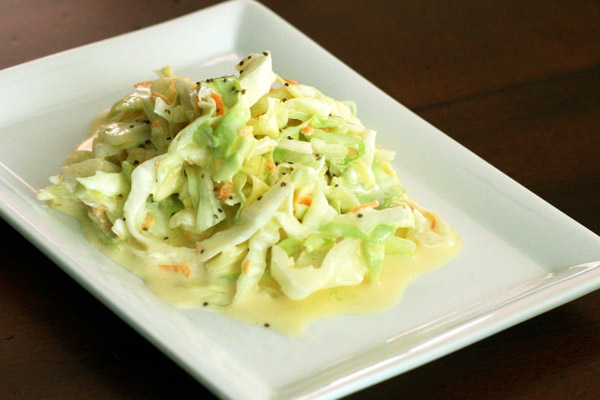 Coleslaw is the perfect side dish to serve with fish, fried chicken, sandwiches, and pulled pork. Add it to fish tacos or a fried chicken sandwich.

This version is a family favorite. It's a mayonnaise-based slaw with some sugar and vinegar for tangy flavor. Make it an hour before serving, so the slaw has some time to take on the flavors. When the cabbage mixes with the salt and mayonnaise, it releases some of its moisture, giving the salad more flavor over time.
Related:
North Carolina Coleslaw
Prep Time: 15 minutes
Cook Time: 0 minutes
Total Time: 15 minutes
Ingredients:
Instructions:
Cut the cabbage into wedges and shred it with a sharp chef's knife or mandoline. Or use a food processor with the shredding disc.
Peel the carrots and shred or cut them into thin matchsticks.
Combine the shredded cabbage and carrots in a large bowl; toss with the celery seeds.
In a bowl, combine the mayonnaise, sugar, vinegar, oil, celery salt, pepper, salt, and lemon juice; pour over the cabbage. Toss to blend ingredients. If desired, add a small amount of cream or half-and-half, to thin.
Cover and refrigerate until serving time.
Makes 8 servings.
Site Search