Cream Cheese Pie Crust
by
, May 6, 2017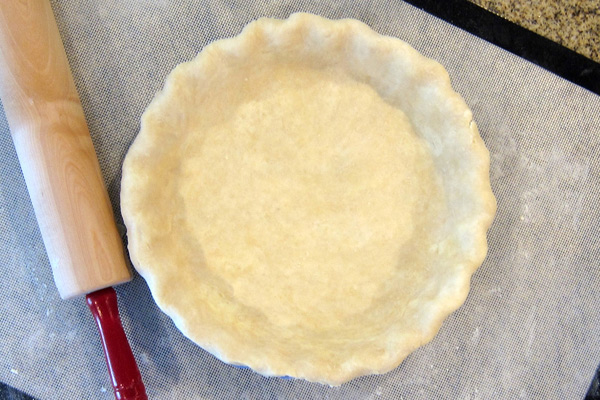 This cream cheese pie pastry is a snap to make, and it can be used for a sweet or savory pie. The instructions are for a double crust pie, but one of the pastry disks may be frozen for another use if you don't need a top crust.
Prep Time: 25 minutes
Total Time: 25 minutes
Ingredients:
Instructions:
In a mixing bowl with an electric mixer, beat the butter with the cream cheese until smooth and creamy. Add the heavy cream and beat until smooth.
Add the flour, sugar, if using, and salt. Beat on low speed just until the dough begins to hold together.
Turn the dough out onto a generously floured surface. Gather into a ball, knead a few times, and divide into two uniforml pieces.
Shape each portion into a flattened disk and wrap in plastic wrap. Refrigerate for 30 minutes.
Take one disk out of the refrigerator; roll out to about 12 inches in diameter. Line the pie plate, leaving an overhang of about an inch. Fill the pie shell. Roll out the second disk and fit it over the filling. Seal the top with the bottom overhang, turn under and crimp as desired.
Combine the egg yolk and water in a bowl; whisk to blend. Brush over the crust. If desired, sprinkle lightly with decorating sugar or a cinnamon sugar blend.
With a sharp knife, cut a few vents in the top crust to allow steam to escape.
Bake a double crust pie, such as apple, for about 55 to 60 minutes, or until the crust is golden brown and the filling is cooked. Or follow the directions for your particular pie recipe.
Begin checking the pie after 30 to 40 minutes for overbrowning. Use a pie shield to protect the edge, if necessary.
8 Servings
Site Search