Cornbread, Sausage, and Apple Dressing
by
, May 15, 2017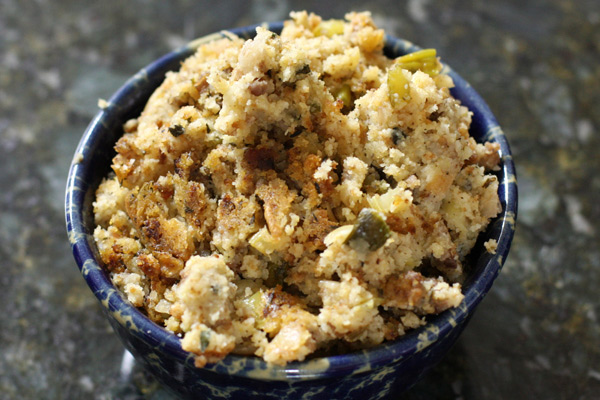 Cooked pork sausage, chopped apple, and sage flavor this savory cornbread dressing. The dressing is an excellent choice for a holiday meal with turkey, chicken, or ham.
Prep Time: 20 minutes
Cook Time: 50 minutes
Total Time: 1 hour 10 minutes
Ingredients:
Instructions:
Place a large skillet over medium heat. Add the sausage and cook, breaking up and stirring, until lit is no longer pink. Remove the sausage and set aside.
Pour off any excess drippings. Add the butter, chopped apple, onion, celery, and green onion. Cook until the onion is translucent. Add the green onion and cook 1 minute longer.
Heat oven to 375 F.
Grease and flour a 9x13-inch baking dish.
In a large bowl, combine the crumbled cornbread and bread pieces in a large bowl. Toss with the sage, thyme, marjoram,and parsley.
Stir the onion mixture and cooked sausage to the bread and herb mixture. Add 1 1/2 cups chicken broth and gently stir. Add more chicken broth, as needed, to make a moist mixture. Taste and add salt and pepper, as needed. Spoon into the prepared pan and spread evenly.
Cover the pan tightly with foil and bake for 40 minutes.
Remove the foil and continue cooking for about 10 minutes.
Makes 8 to 10 Servings
Site Search