Southern Cornbread Salad
by
, September 6, 2017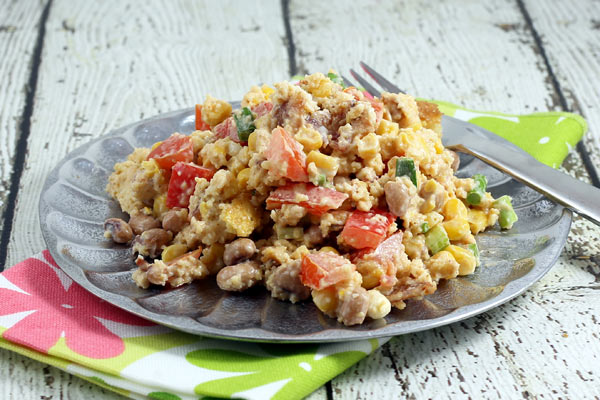 Season this yummy cornbread salad with taco seasoning or ranch dressing mix, depending on what flavor your family likes. Feel free to change it up with black beans or black-eyed peas instead of pinto beans. The recipe makes enough for 8 to 10 people, and it is easily scaled down for a family meal. I used self-rising cornbread mix (with about 2 tablespoons of sugar) and taco seasoning in the pictured salad.
Related:
Broccoli Crunch Salad Recipe
Prep Time: 15 minutes
Cook Time: 20 minutes
Total Time: 35 minutes
Ingredients:
Instructions:
Prepare a pan of cornbread (skillet or 8-inch pan). Crumble half of the cornbread into a large serving bowl.
In a small bowl, combine the taco seasoning or dry ranch dressing mix with 1/2 cup of sour cream and mayonnaise. Blend well and set aside.
In a large bowl, combine the drained beans and corn with the crumbled bacon, chopped red and green bell pepper, green onions, and tomatoes. Add the mayonnaise mixture and blend thoroughly.
Layer half of the vegetable and bacon mixture on the cornbread mixture in the serving bowl. Top with the remaining crumbled cornbread and then the remaining vegetable mixture.
If desired, top with shredded cheese.
Chill for 2 or more hours.
Gently stir to combine all ingredients just before serving.
8 to 10 servings.
Site Search