Corn and Bacon Chowder
by
, April 29, 2017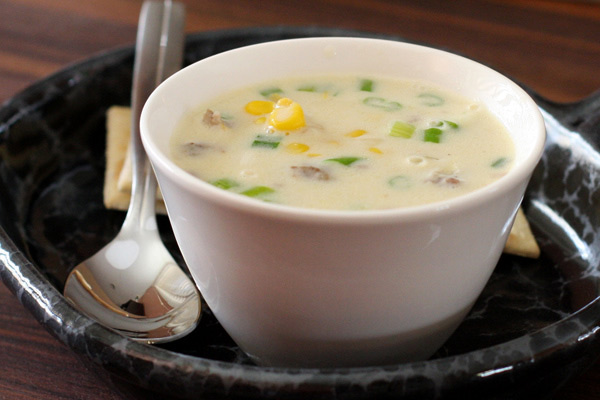 This easy corn chowder includes bacon, onions, and bell peppers. It's a tasty and colorful corn chowder, and it takes only 30 minutes to prepare and cook.
Prep Time: 10 minutes
Cook Time: 20 minutes
Total Time: 30 minutes
Ingredients:
Instructions:
In a large saucepan over medium heat, fry the bacon until crisp; drain on paper towels. Crumble and set aside.
Pour off all but 2 tablespoons of drippings from saucepan. To the bacon drippings add onions, green pepper, and garlic; saute for 5 minutes. Stir in the flour and continue cooking for 2 minutes, stirring constantly.
Add corn kernels and chicken stock along with the salt, oregano and white pepper. Bring to a simmer; reduce heat to low. Cover and simmer for 5 minutes, stirring occasionally.
Stir the milk and reserved bacon into the corn mixture. Cook, stirring frequently, over low heat for about 4 to 6 minutes or until mixture is hot.
6 Servings
Site Search